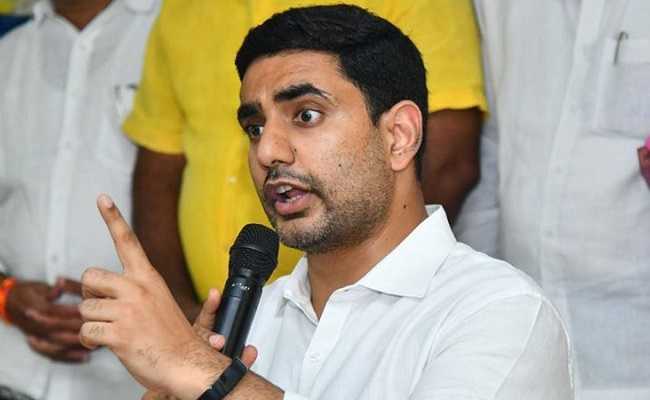 Andhra Pradesh's opposition Telugu Desam Party (TDP) on Sunday reacted strongly to Director General of Police (DGP) K.V. Rajendranath Reddy seeking details of party leader Nara Lokesh's padayatra.
TDP politburo member, Varla Ramaiah said that the DGP has raised several unwanted and undesirable queries on padayatra by the party general secretary.
Lokesh, son of TDP president N. Chandrababu Naidu, proposed to launch a 4,000 km long padayatra from Kuppam on January 27.
Though Varla Ramaiah has written to the DGP seeking permission for the foot march, the police have still not accorded the permission. The DGP on Saturday wrote a letter to Ramaiah seeking a route map, details of people and vehicles in the yatra.
Strongly responding to the DGP's missive, Varla Ramaiah has made it clear that this is not for the first time in the history of the nation that a leader is undertaking a padayatra.
"The former prime minister, Mr Chandra Sekhar, the former chief ministers of the State, the Late NTR and the Late YS Rajasekhara Reddy, the former chief minister, Mr Nara Chandrababu Naidu, and those who fought for Independence like the Mahatma Gandhi also went on padayatra," he pointed out.
Varla Ramaiah also mentioned in his letter the recent Bharat Jodo yatra by the AICC leader, Rahul Gandhi and the padayatra by Sharmila, the sister of Chief Minister, Jagan Mohan Reddy.
The TDP leader requested the DGP to take measures to provide proper security for the 'Yuva Galam', to be undertaken by Nara Lokesh, from January 27.
The TDP politburo member said that Lokesh, through his padayatra, intends to bring awareness among the public on various issues plaguing the state like lack of employment opportunities, poor welfare and development in the state.
Stating that the Yuva Galam is tentatively planned to begin on January 27 from Kuppam to Itchapuram covering around 125 Assembly segments spread over 4000 km, Varla Ramaiah said that the detailed schedule of the padayatra will be provided to the local sub-divisional police officers (SDPOs) ahead of the schedule to enable the local police to provide necessary security arrangements.
"In a democracy, it is quite natural that the political parties meet the public through various means to move closer to the people to address their grievances and the padayatra is only one such mechanism. The number of people taking part in the padayatra depends on the local issues and it is the duty of the local police to estimate and assess as to how many people will be taking part in the programme," Varla Ramaiah said in his letter.
He also made it clear in his letter that the detailed schedule, including the night halts will be intimated to the local police and stated that some vehicles like prachara ratham, two sound vehicles, four vehicles in Lokesh convoy and a media van will form part of the vehicles accompanying him.