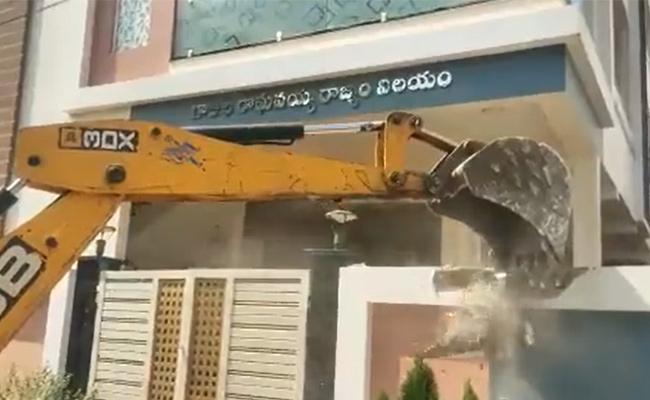 The sudden demolition of houses on the road side in Ippatam village of Tadepalli mandal on Friday raised an eyebrow.
The officials have served notices to the residents along the road of the village a week ago. Though the villagers have filed a petition in the court, the officials went there with machines and pulled down some houses.
One wonders what made the government to take up road widening in this village, which has 70ft main road.
The village has just 4,120 population and 1,277 households. The government did not make this small village as a municipality, nor was it part of the capital villages.
Hence the question comes – what made this government to plan road widening and thus take up demolition of houses!
The village had given its lands for the Jana Sena to hold the party's formation meeting in March this year.
Jana Sena chief Pawan Kalyan had been visiting the village or meeting the people of this village frequently.
Pawan Kalyan had celebrated his birthday in his party office at Mangalagiri with the residents of this village.
Except for these reasons, there was nothing to justify for the government to go for widening of the road and demolition of houses with so much urgency!
One wonders which adviser had given this invaluable piece of advice to the government to take up this mission as if there are no other issues in the state!
No one knows whether Chief Minister Y S Jagan Mohan Reddy is aware of this action in the village! But it was politically a wrong decision.
Meanwhile, the high court had issued stay orders on further demolition of houses and expansion of the road in this village – a slap on the face of the people in the government who took this decision!