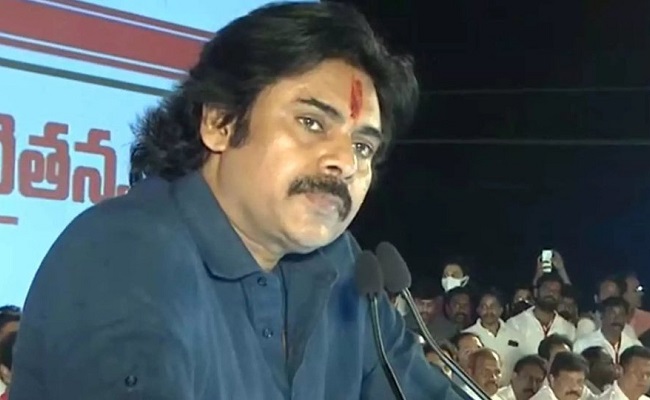 A message posted by a common man in Facebook, questioning why somebody should vote for power star and Jana Sena Party chief Pawan Kalyan has gone viral in the social media.
In the post, the common man posed several questions to Pawan Kalyan. He asked what the credibility of the Jana Sena chief was.
"Why should somebody vote or not to vote for your party or another party as per your call?" he asked.
He wondered whether Pawan Kalyan deserved to be voted power.
"What is your eligibility (to seek votes from the people)? Your crazy dances in films or your high educational qualifications? Or the three big achievements in your personal life?" he asked.
The common man also pointed out that his brother had cheated the people by floating a political party.
"You were also one of the beneficiaries of the party. You have gained experience from the same party on how to get benefitted from politics," he said.
He also found fault with Pawan Kalyan for his inconsistency and lack of commitment.
"You cannot stand steadily even for 10 minutes; so is your mind which lacks any balance. How can people expect a stable rule from you?" he asked.
The common man questioned the Jana Sena chief as to what had happened to the Common Man Protection Force he had launched during Praja Rajyam regime.
"Do you think people should vote for you by watching your celebrity status as an actor and your paraphernalia?" he asked.
He also accused Pawan Kalyan of floating a political party as a business entity as part of secret deals and then selling the same to others at a profitable rate.
He alleged that the power star had mastered the strategy of cheating the people on whom and why he was supporting or opposing the other parties.
"When you can't answer a question from a reporter, how can anybody expect you to attract investments to Andhra Pradesh competing with global companies and singing international agreements?" he asked.
Finally, the common man put a straightforward question: "Why should be believe you, Mr Pawan? In this competitive world, when a person is grilled thousand times on his qualification before giving him a job, why should somebody vote for you though you don't have any qualifications?" the common man asked.