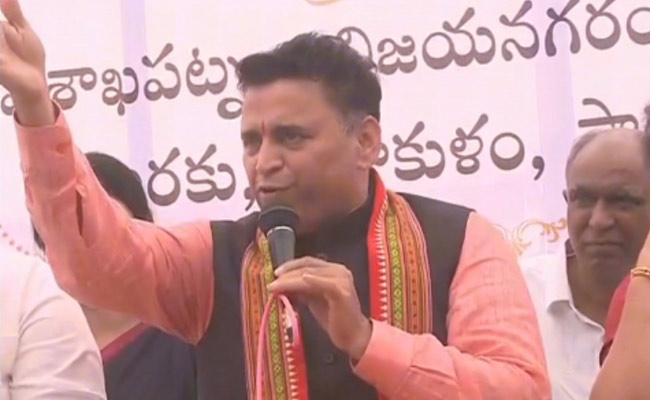 A cold war of sorts is learnt to be brewing in the Andhra Pradesh unit of Bharatiya Janata Party over the alleged domination of defectors from other political parties, particularly those from Telugu Desam Party.
According to sources, there were fireworks in the party over the role being played by defectors from the TDP in the party affairs. BJP in-charge of Andhra Pradesh affairs Sunil Deodhar reportedly made a comment that BJP had become a parking place for defectors from the TDP, triggering a debate in the party.
Sources said the BJP state leadership is learnt to be upset with the domination by defectors from TDP like Sujana Chowdary, C M Ramesh and Adinarayana Reddy.
Similarly, there are defectors from other parties like Daggubati Purandeshwari and Kanna Lakshminarayana, who are also being given a lot of prominence in the party.
The latest decision of the BJP national leadership to entrust the responsibility of the party campaign in Badvel assembly constituency to C M Ramesh and Adinarayana Reddy has terribly angered the local BJP leadership.
They wondered how non-serious leaders like Ramesh, who defected from the TDP for his own business interests, can lead the party campaign in the elections. Similarly, Sujana Chowdary is also said to be opposing the attack of the state BJP leaders against the TDP.
Deodhar reportedly argued that the primary objective of the party is to wipe out the TDP from Andhra Pradesh so that the BJP would replace it as the major opposition.
"If we start promoting the coverts from the TDP, how can we grow in the state?" he reportedly asked and ruled out any possibility of having any alliance with the TDP in the coming days.
However, the defectors from the TDP are also getting ready to counter this campaign. Their argument is that an opposition party would get the people's support if it attacks the ruling party and exposes the failures of the government.
"What is the point in targeting another opposition party and sparing the ruling party? During the 2019 elections, too, Jana Sena chief Pawan Kalyan adopted the same strategy. He targeted Jagan Mohan Reddy in his speeches and spared Chandrababu Naidu who was in power then. This led to the opinion that he was hand in glove with Naidu. Ultimately, Jana Sena faced a debacle," a BJP leader who defected from TDP said.
Click Here for Latest Direct-to-OTT Releases (List Updates Daily)