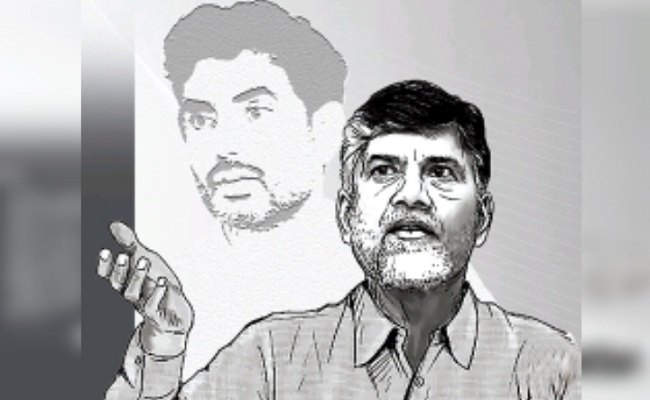 Ever since Telugu Desam Party president and former Andhra Pradesh chief minister N Chandrababu Naidu was arrested and sent to judicial remand in Rajahmundry jail, there has been a talk that the Y S Jagan Mohan Reddy government's next target would be his son and TDP general secretary Nara Lokesh.
While announcing the arrest of Naidu in the skill development corporation case, CID additional director N Sanjay said the CID was also investigating the role of Lokesh and his associates in the same case.
"Besides, we are also deeply investigating into Lokesh's role in the AP Fibernet and Amaravati inner ring road scams," Sanjay said.
There were leaks to the media from the CID that Lokesh had gone to New Delhi only to avoid being arrested in the AP Fibernet scam and he might be arrested as soon as he lands in Vijayawada or Rajahmundry.
But surprisingly, the CID filed a memo in the ACB court on Tuesday adding Naidu's name as A-25 in the multi-crore AP Fibernet scam, instead of Lokesh. The name of Lokesh was not there in the FIR at all.
The CID also filed a petition in the court seeking a Prisoner Transit warrant against Naidu as he is currently under judicial custody in the Rajahmundry Central Jail. If the CID is granted warrant, Naidu will be arrested again, as soon as he is released from jail on bail.
A Special Investigation Team (SIT) report revealed that Rs 115 crore was misappropriated in the Fibernet scam and the CID registered the case in 2019 against 19 persons. It named one Vemuri Hariprasad, said to be very close to Chandrababu, as accused no. 1 and former Managing Director of the company Sambasiva Rao as A 2 in the case.
According to information, the CID probed the issue of granting tenders illegally to TerraSoft, extending the deadline by one week in violation of the rules. Hariprasad was said to have pulled the strings in favour of TerraSoft which was earlier blacklisted by the government.
However, within a couple of months, the Chandrababu Naidu government went out of the way to release the company from the blacklist by the Civil Supplies director Ravibabu.
TerraSoft which bagged the tender in association with Himachal Futuristic Communication company, excluded the latter in the deal.
The CID already recorded the statement of the vice-president of HFC Anil Jain who said they were cheated. TerraSoft then purchased substandard material for Rs 115 crore from another company and supplied it to Fibernet and CID spotted Chandrababu's hand in the entire deal.
Apparently, the CID has realised that the role of Lokesh is negligible in the Fibernet case, as the deal was done by infrastructure and investment department and not the IT ministry.
"The CID knows that the case, if filed against Lokesh, has no evidence and it will be dismissed within no time. Hence, it spared Lokesh and targeted Naidu," a TDP leader said.