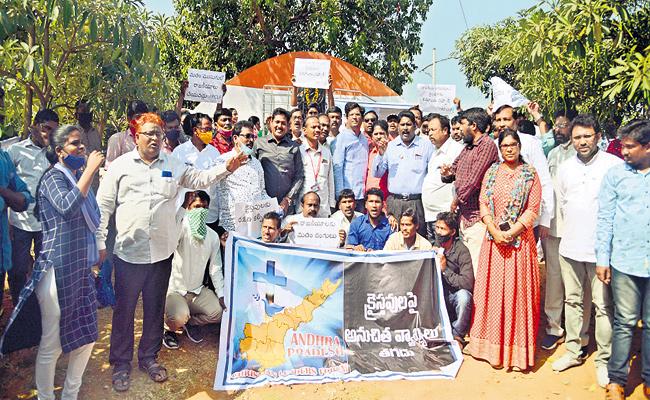 In a rude shock to Telugu Desam Party president and former Andhra Pradesh chief minister N Chandrababu Naidu, Christian leaders of the party in all the 13 districts of the state quit the TDP en masse in protest against his recent remarks against Christianity.
It was not totally an expected development, as Naidu, who was by and large maintaining a secular approach all these years, suddenly donned the Hindutva ideology and started championing the cause of Hindus, following the recent attacks on temples and desecration of idols of Hindu gods.
While Naidu can be justified in taking up the issue of attacks on temples for making political gains, what surprised everybody was the way he started attacking Christianity in a bid to attack chief minister Y S Jagan Mohan Reddy.
He questioned how a Christian can be compared with Lord Ram, how a Christian can enter Tirumala temple without signing the declaration and how the Jagan government could pay Rs 5,000 to pastors etc.
He even accused Jagan of encouraging conversions of Hindus into Christianity.
Protesting against Naidu's stand against Christianity, former nominated Anglo-Indian MLA Phillip C Tocher resigned from the TDP, ending his long-association with the party.
On Tuesday, it was the turn of presidents of TDP Christian Cells in all the 13 districts to call it quits to the party.
In a statement, TDP Christian cell state president Praveen Kumar said he and his Christian brothers had been serving the TDP for several years, sincerely working for the party's development.
"However, the comments made by Naidu on January 5 severely hurt us. He has insulted the entire Christian community. Never did he speak in such a humiliating tone on our religion," he said.
Stating that Naidu's comments had hurt the sentiments of Christians, Praveen reminded that in the past, the TDP chief had gone to Churches and conducted prayers.
"He went to mosques and conducted Namaz to greet the Muslims. India is a secular country and leaders take part in all religious functions," he said.
He wondered why Naidu opposed with payment of Rs 5,000 to pastors and reminded that even in the TDP manifesto, several schemes were announced for Christians.
"Why is he opposing setting up of churches in villages? It is not new," he said.
Praveen also found fault with Naidu for commenting on religious conversions and demanded that the TDP chief should prove where there were forced conversions in the state.
Click Here for Latest Direct-to-OTT Releases (List Updates Daily)