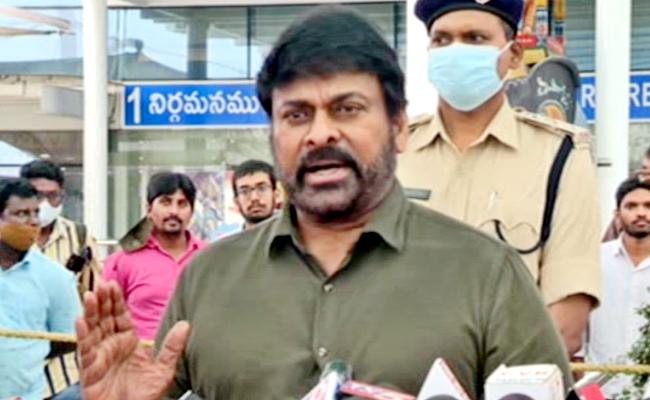 Megastar Chiranjeevi has refuted the reports that YSR Congress party chief and Andhra Pradesh chief minister Y S Jagan Mohan Reddy had offered him nomination to Rajya Sabha, elections for which are going to be held in April this year.
Chiranjeevi told reporters that he had been keeping away from politics and hence, he would not aspire for any such posts or positions.
"There is absolutely no truth in the reports that I was offered the Rajya Sabha nomination by YSR Congress party. It is purely a hypothetical talk," he said.
Stating that he was beyond political affiliations, the megastar said nobody would make such an offer to him, as he was keeping the politics at bay.
"I don't lobby for such posts nor do parties make such an offer to me. I keep myself away from such political posts," he said.
Surprisingly, Chiranjeevi, who left for Hyderabad after having a luncheon meeting with chief minister Y S Jagan Mohan Reddy at the latter's Tadepalli residence on Thursday, came to Vijayawada for a second consecutive day on Friday.
This led to the speculations that he had come for holding talks with Jagan on the Rajya Sabha nomination. In fact, there were such leaks to the media from some sources close to YSR Congress party.
There were rumours in the media circles that the offer of Rajya Sabha seat to Chiranjeevi was part of the political strategy of Jagan as per the advice of strategist Prashant Kishor, to turn the Kapu community towards the ruling party.
It is also believed to be a strategy to counter the proposed alliance between Telugu Desam Party and Jana Sena (headed by Chiranjeevi's younger brother Pawan Kalyan).
However, with Chiranjeevi making it clear that he won't aspire for or accept any such offer for Rajya Sabha nomination and that he was not made any such offer by the ruling party, it has put an end to all such speculations.