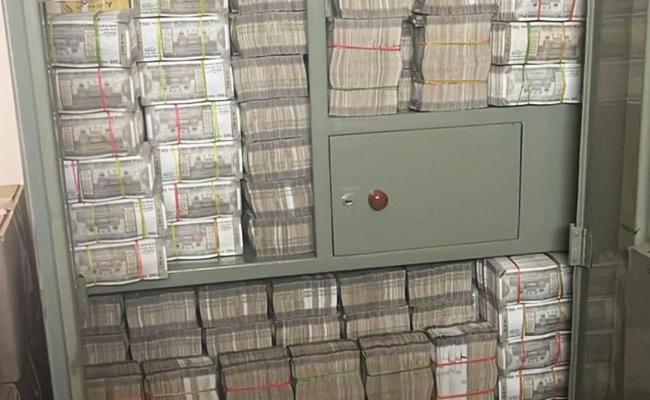 Bundles of cash running into crores of rupees tumbled out of the private bank lockers belonging to Hyderabad-based pharmaceutical company Hetero Drugs during the continued searches by the Income Tax department on Tuesday.
According to I-T department sources, the sleuths were shocked to find a large number of bundles of currency in the bank lockers of Hetero Group, when they seized the lockers and opened them.
Each locker comprised currency ranging from Rs 1.50 crore to Rs 2 crore, all in the denominations of Rs 500 and Rs 2,000.
The bundles were neatly arranged in the lockers of various bank branches located in Ameerpet, Secunderabad and Srinagar colony.
Source said so far, the officials could find hard cash to the extent of Rs 30 crore in these lockers and more lockers are likely to be opened by evening.
A couple of days ago, the I-T department announced that it had seized unaccounted cash to the tune of Rs 144 crore.
With the latest seizure of cash bundles, the unaccounted cash seized from Hetero Group mounted to Rs 174 crore. This is besides the "unaccounted" income of Rs 550 crore during the raids last week.
The I-T department is learnt to have found that the Hetero Group had purchased huge extent of land in and around Hyderabad with black money.
The I-T department transported the seized cash and documents in mini-trucks. The raids were carried out at about 50 locations in 6 States. During the search, several bank lockers have been found, out of which 16 lockers have been operated.
The I-T department gathered evidence of on-money payment for the purchase of lands. Various other legal issues were also identified such as personal expenses being booked in the company's books and land purchased by related parties below government registration value.
Hetero Drugs is promoted by B Parthasarathy Reddy, who was also one of the co-accused in the quid pro quo case being probed by the Central Bureau of Investigation against YSR Congress party president and Andhra Pradesh chief minister Y S Jaganmohan Reddy.
Click Here for Latest Direct-to-OTT Releases (List Updates Daily)