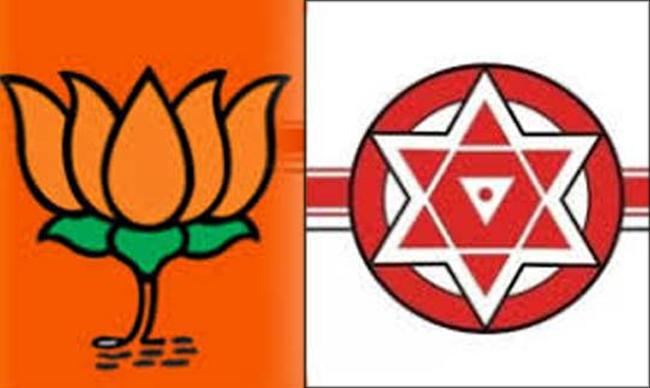 The BJP and Jana Sena leaders are taking the allocation of "Glass" symbol in Tirupati Lok Sabha by-election to Navarang Party to the Election Commission notice.
A delegation of the two parties, which complain against the allocation of Jana Sena's election symbol to another registered party, decided to meet Chief Election Commissioner Sunil Arora in Delhi and complain.
Union Minister Mukthar Abbas Saqvi is leading the delegation of the two parties, which included Sunil Deodhar, G V L Narasimha Rao, Y S Chowdary, C M Ramesh and Om Pathak from the BJP and Nadendla Manohar from the Jana Sena.
The EC had allocated the Jana Sena's election symbol to Navarang Party, which is contesting the by-election as the Jana Sena is not contesting.
The recognised party which fail to get 6 per cent of votes in Assembly elections or get two MLAs elected on its symbol loses the recognition.
The Jana Sena, though was given the "Glass" symbol in the 2019 general elections, it failed to get the vote share or MLAs share as required by the Election Commission.
In Tirupati too, the Jana Sena opted out of contest and is supporting the BJP, thus losing its right over the symbol.
As the Jana Sena failed to fulfil any of the conditions to retain the symbol, it had gone to another party now.
It is to be seen what the EC would do at this stage, as the symbol was already given and the candidate had already started his campaign.