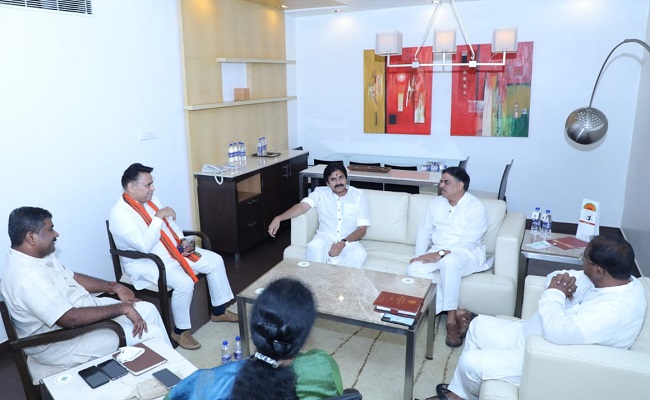 At a time when there have been reports that the Bharatiya Janata Party in Andhra Pradesh is taking it easy with Jana Sena Party headed by Pawan Kalyan due to his non-serious attitude, the sudden meeting of the top BJP leader and the power star on Saturday evening at Vijayawada raised many eyebrows.
For the past few months, especially after the by-election to Tirupati parliamentary seat, both the BJP as well as Jana Sena have been acting independently, though they have not officially broken up their alliance.
While the BJP has been following its own agenda without involving Jana Sena in any of its activities, Pawan Kalyan, too, has not made any attempt to meet the BJP leaders during his earlier visits to Andhra Pradesh.
Under these circumstances, the meeting of senior BJP leaders with Pawan Kalyan and his associates including Nadedla Manohar at Vijayawada came as a big surprise.
BJP national general secretary Daggubati Purandeshwari, BJP in-charge of Andhra Pradesh Sunil Deodhar, state BJP president Somu Veerraju and others attended the meeting.
The meeting was considered to be that of BJP-Jana Sena coordination committee, aimed at discussing the latest political situation in Andhra Pradesh and the joint strategy to be adopted in their fight against the Jagan Mohan Reddy government on various issues like state financial position etc.
It is not immediately known whether the meeting was scheduled well in advance or just an informal one. Apparently, the BJP leaders are understood to have asked Pawan to play an active role in politics, instead of making casual appearances once in a while.
Sources said the BJP leaders brought to the notice of Pawan Kalyan that there is a complaint from the BJP cadres at the local level about non-cooperation from the Jana Sena cadres in any of the activities.
They told him the people would stop taking Jana Sena seriously, if the party doesn't take up programmes to fight against the government.
Pawan Kalyan reportedly assured them that he would take more active role in the coming days.
He entrusted the task of formulating joint action plans in consultation with the BJP to step up the fight against the Jagan government on various issues.