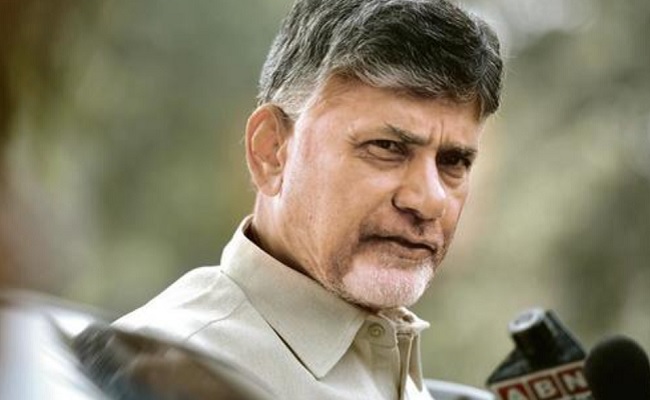 "If there is one blunder that Chandrababu committed, that is underestimating Y S Jagan" this is the line that came from many hardcore TDP members post elections.
Respecting, not underestimating, not humiliating your opponent– these are basic political fundamentals and Babu ignored that and just fell into the trap of his coterie.
He assumed whatever he gets written in Eenadu, Andhra Jyothi would register directly with the people. The fact that he staged a coup against N T Rama Rao and became CM twice after that gave him overconfidence. But he bit the dust in 2004 and in 2009.
The late Y S Rajasekhar Reddy was able to put Chandrababu's wily moves under check. With two consecutive election victories, he gave a death blow to Babu's political career. Unfortunately he passed away and immediately Babu set his target on Jagan. He started using his strategies again to choke Jagan. As such, YSR never had issues irrespective of victory or defeat but Jagan's story is different.
He has seen the rock bottom in life but never lost his confidence. He embraced all challenges gracefully and at the same time he kept a tab on the opponent's strength. He trusted people along with his self-belief. Babu took the same old route of image tarnishing through yellow media, managing the system through lobbying.
But Jagan took the people route and he won the hearts of the people as well as the leaders. Chandrababu was decimated and Jagan became the CM with absolute majority. From there started Jagan's 'Ashtadigbandhanam'. He is moving his cards to close Chandrababu's political chapter forever and below are those eight moves:
Making Babu weak among people
Jagan already did that in the last election. When you look at it deeply, Jagan was able to break the strongest forts of TDP. The ever victorious TDP leaders tasted bitter defeat. Their background, caste equations…nothing worked.
The mass voting which happened didn't repeat because Jagan explored why this happened and prepared his strategies accordingly.
After 2019 elections, Chandrababu is left with no solid vote bank. Though he followed his plans and bought 23 MLAs he could not make it to power.
That way, Jagan made Chandrababu completely weak in politics.
Financial strength
Jagan has full clarity about his opponent's strengths and that's why he never underestimated Babu. He started focusing on the financial looting Babu did during his tenure as CM and understood how Babu shaped Amaravati as the hub merely for the benefit of him and his community people.
Today, entire AP people know the 'Real' game behind Amaravati. Even Babu is pleading that at least Amaravati remain the capital. By fighting for three villages, Babu has become the leader only for those 3 villages. Even the opposition for him has risen among people.
On the other hand, Jagan increased his image by his 3-capital plan while Babu got stuck with Amaravati. Given all this, it is almost impossible for Chandrababu to come out of this swamp.
Dismantling TDP
Is there a leadership for TDP? That is the situation now of the party. Though it is officially the opposition party, the count of leaders can be done in fingers.
During YSR's time, TDP was a strong opposition and they created some noise. But today the scene is different. Those who won for multiple terms got defeated and are not involving in their constituency activities. The only opposition now being seen is in the yellow media.
And those TDP members who have goodwill among the people are joining Jagan. That way the entire structure has been plundered.
Enquiries on corruption
Jagan's government is now focusing on the corruption that took place during TDP regime. Those leaders who openly challenged Jagan to do an enquiry are now running behind Courts to get a stay order. They are alleging unfair practices when arrested but with strong evidence facing them, they are going silent.
All those who mocked Jagan as a jail convict are now getting a taste of the Jail themselves. The corruption enquiry is a big bane to TDP and it is going to happen for a long time.
A lot of scams are surfacing involving the likes of Acchem Naidu, J C Prabhakar Reddy under the auspices of Lokesh.
If enquiry takes a serious measure, even Lokesh might end up in jail. All in all, the enquiries are sure to decimate TDP.
No more strategies from Babu
Though he is showing the hope of elections, if it does come in 2022 does Chandrababu and his team has the required strength? Situation is so confusing that even he doesn't know who is in the party and who is not. There are absolutely no steps to strengthen the party.
By taking the Amaravati route, Babu drowned the party. Lately, he seems to be attempting to attack Jagan through the religious route but even if some impact happens, why should people vote for TDP. They have already seen how religious issues were handled during TDP time.
Secondly, Babu cannot talk about welfare schemes, cannot criticize about administration because then the blunders of his administration will come out. That way, TDP is left with zero strategies.
Check on Lobbying
It is an open secret that Chandrababu is a master at lobbying and managing different systems including judiciary.
Right from grabbing power from NTR to becoming the chief of the party, Babu's lobbying powers are known. Even his efforts bore fruits in judiciary as per his own leaders like Umareddy Venkateswarlu.
Elements like Punnami Ghat parties and other incidents bore true power of Chandrababu's lobbying. Now, Jagan has come forward fearlessly and is exposing them.
Though some felt Jagan was being stubborn, after seeing the depth they are now agreeing with Jagan's decision. Even legal experts are now supporting Jagan's decision of writing a letter to Supreme Court Chief Justice and feel an enquiry is necessary.
Keeping aside the point of whether enquiry will happen or not, Jagan put his perspective right in front of people and gave them clarity, TDP is now stuck.
Putting check to Babu at Delhi
This is also a wrong move from Babu. During the last elections, he suddenly switched sides to Congress dumping Narendra Modi and BJP.
It is heard that Modi also has the proof of Babu funding Congress's election expenditure. Now, with Modi in power, Babu is moving heaven and earth for alliance but in vain.
On the other hand, Jagan has been quite in accordance with BJP's directives and he has earned a positive repute in Delhi circles.
Due to this, nobody is ready to even see Babu there. Going forward, if Jagan manages to get special status to AP and allies with NDA, it would put an End card to Babu's political journey.
Chandrababu showing his true colors
Through his style of administration, Jagan has shown to the people how narrow minded and vested was Chandrababu 's rule.
Unlike Babu whose sole focus was strengthening his caste people financially and taking initiatives which will benefit him and his coterie, Jagan gave his priority to people. He has initiated welfare schemes benefitting the people in all ways.
By revamping public healthcare facilities, government schools and other establishments, Jagan has gone far ahead of Babu in a dynamic way.
The pace at which Jagan is growing, it is making Babu look small and he is restricting himself to Amaravati only. Though he is still using his media machinery, his community heads power and even Pawan Kalyan, in the big picture he is stuck at Amaravati only.
Overall, the Ashtadigbandhanam created by Jagan is certainly demolishing Chandrababu in all angles. In a way, it could also mark the end of Babu's political chapter very soon.
Click Here for Latest Direct-to-OTT Releases (List Updates Daily)