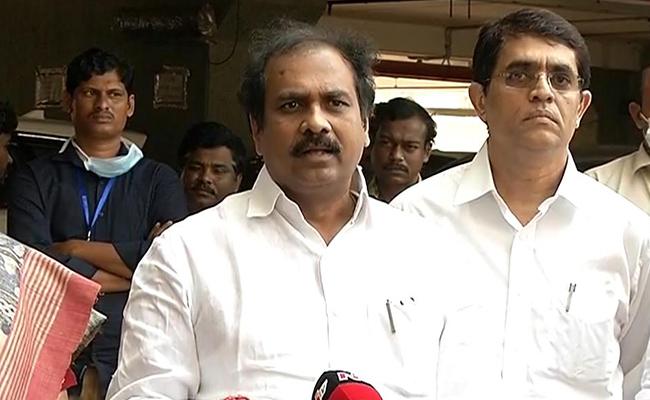 Amaravati: The Andhra Pradesh government has identified key areas during the 21-day lockdown imposed to tackle the coronavirus crisis.
At a review meeting conducted by Chief Minister Jagan Mohan Reddy on Saturday, the government decided to maintain supply chain of essential commodities, ensure that harvesting takes place on schedule, and provide food security for economically weaker sections of society.
Briefing the media after the review meeting, the Group of Ministers (GoM) who participated in the review meeting, said the monitoring mechanism would be further strengthened in addition to keeping the focus on social distancing.
The GoM includes Alla Kali Krishna Srinivas (Nani), Botsa Satyanarayana, Buggana Rajendranath Reddy, M. Sucharitha, and Kurasala Kannababu.
Health Minister Alla Nani said, "It has been decided that one doctor should be appointed for every 10 foreign returnees and a specialist should be appointed above them. Moreover, the video conference facility should be available between the doctors and specialists".
"Necessary protection suits and tools shall be supplied to doctors, volunteers, Asha workers to ensure their safety from coronavirus. For the same, the order has been placed to purchase about 1.35 lakh PPEs, 5 lakh N-95 masks, and 400 ventilators".
The minister said that in the course of the review meeting, the Chief Minister sought details on the second survey results conducted by village volunteers and instructed the officials that this process should be continued where every volunteer records the condition of 50 households, said the Minister.
The services of doctors who voluntarily come forward in fighting against COVID-19 should be utilized, he added.
Those who were identified in the survey conducted by ANMs, Asha workers, and volunteers should be sent for treatment as per the protocol.
Apart from the stress on maintaining social distancing in the state, the government will intensify efforts to help people stranded in other states.
"The Chief Minister has also directed the officials to coordinate with district collectors on the state borders and make use of marriage halls and hotels to accommodate people only after sanitizing those places," the minister said in the media briefing.
Minister for Municipal Administration Botsa Satyanarayana stressed that there is no shortage of food and essential goods in the state. The government plans to use village volunteers to deliver old age pensions and food rations to the people at their doorsteps.
Agriculture Minister Kurasala Kannababu said that apart from banana crop in the Rayalaseema region, the second paddy crop will be ready for harvest.
"The government would seek permission from other states to transport agricultural produce", he said.