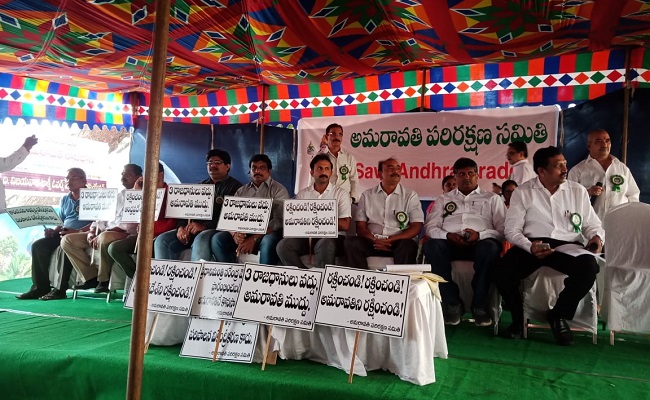 The agitation by farmers of Amaravati against the decision of YSR Congress party government led by Y S Jagan Mohan Reddy to form three capitals for Andhra Pradesh with administrative capital at Visakhapatnam entered 100 days on Thursday.
The agitation, funded and led by cash-rich farmers who were trying to rake in a moolah in the form of real estate business if the capital city comes up at Amaravati, has witnessed strong and at times, violent protests in the initial days.
But as the days passed by, the agitation has lost its steam with the issue going to the courts and the three capitals bills being stalled in the legislative council.
The Telugu Desam Party led by N Chandrababu Naidu, which spearheaded the movement in the initial stages, too, quietly withdrew from active participation.
And with Naidu opting out, the media, too, has stopped covering the agitation regularly. The Save Amaravati Movement, which used to hit the headlines of the pro-TDP media every day, has been relegated to inside pages on a small scale.
The farmers, including men and women, are still hitting the streets in order to sustain the movement, with a hope that some miracle would happen that would prevent Jagan from shifting the capital to Visakhapatnam.
But what is next for these farmers?
The stalling of the bills in the council, shifting of some offices to Kurnool and distribution of house sites in Amaravati following the high court direction might have given them a temporary relief, but the Jagan government is hell-bent on forming three capitals, if not immediately but at least after a couple of months.
Right now, the dangerous situation arising out of Coronavirus spread across the country might force Jagan to put off his capital shift plan for a few more months, but the farmers of Amaravati should realise that they have to give up their fight one day or the other.
It is better they come to the negotiation table at least now and bargain for what they want from the government. Otherwise, they would be neither here, nor there!