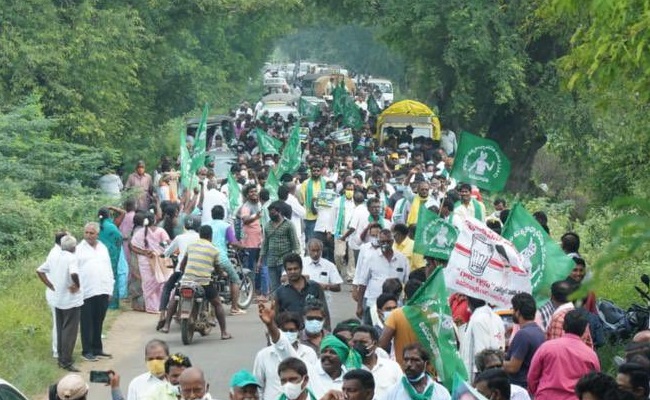 After a gap of more than a month, farmers of Amaravati are planning to resume their padayatra to Arasavilli in Srikakulam district to highlight their demand for retention of the capital city of Andhra Pradesh at Amaravati.
According to Amaravati farmers' joint action committee leader Kolikapudi Srinivas Rao, the farmers would resume their padayatra from Monday (November 28) from Ramachandrapuram in East Godavari district, where they halted it on October 21.
The farmers, who began their padayatra from Amaravati on September 10, had to face a lot of hurdles due to the campaign taken up by the YSRC in support of three capitals across the state.
Though it went on smoothly till they entered Godavari districts, from thereon, the farmers had to face troubles owing to protests from YSR Congress party leaders and the alleged hurdles created by the police.
As they reached Ramachandrapuram on October 20, the farmers had to face a lot of resistance from the YSRC cadres. And the police, too, had imposed a lot of restrictions, following the directions from the high court.
The farmers had to suspend their yatra and moved the court twice, but they could not get any major remedy. The high court clearly told them that not more than 600 farmers should take part in the yatra; that there shall be not more than four vehicles in the yatra and no outsiders will be allowed to join them.
The court also asked the farmers to display their identity cards to the police. It refused to allow any replacement for farmers who get tired or fall sick.
Though it was believed that they would call off their padayatra, the farmers have decided to resume it, braving all odds, strictly following the high court directions.
It remains to be seen whether it is going to be a smooth affair or face further hurdles.