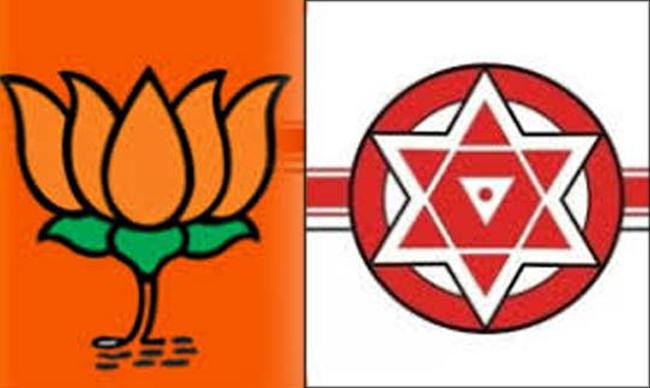 At last, Jana Sena Party led by Tollywood actor Pawan Kalyan has indicated that its friendship with Bharatiya Janata Party in Andhra Pradesh is only temporary and both the parties do not have a common political strategy.
This was made clear by Jana Sena Party state general secretary Shiva Shankar.
"The BJP cannot expect that we do blindly support their decisions. We cannot nod our heads to whatever they do," he said in a statement.
The Jana Sena Party leader asserted that the alliance between both the parties was confined only to the elections.
"Otherwise, both are independent parties, having their own respective political ideologies and following respective political strategies," he said.
Shiv Shankar said Jana Sena Party would strongly oppose the BJP stand on the Visakhapatnam Steel Plant privatisation.
"We have decided to extend our solidarity with the agitating workers of the steel plant. Our leader Pawan Kalyan would take part in the agitation at 2 pm on Sunday at Kurmannapalem junction at Visakhapatnam," he said.
Pawan Kalyan, who is expected to address a big public meeting there, is likely to announce his future course of action in the state.
The police, who initially refused to grant permission to his meeting at the steel plant gate, later changed their stand and gave conditional permission for the same.
In an interesting development, retired IPS officer and former joint director of Central Bureau of Investigation (CBI) V V Lakshminarayana congratulated Pawan Kalyan for taking up the agitation in support of steel plant workers against privatisation.
"Glad to know that sri Pawan Kalyan garu is expressing solidarity with the people fighting against the privatisation of Vizag Steel Plant. Hope this will certainly influence Government of India to change their decision. #savevizagsteelplant," the former JD tweeted.
It may be mentioned that Lakshminarayana contested on the Jana Sena Party ticket in the Visakhapatnam parliamentary constituency in 2019 elections, but lost with a considerable margin. Subsequently, he quit the Jana Sena Party in protest against Pawan Kalyan's decision to return to films, pushing politics to backburner.