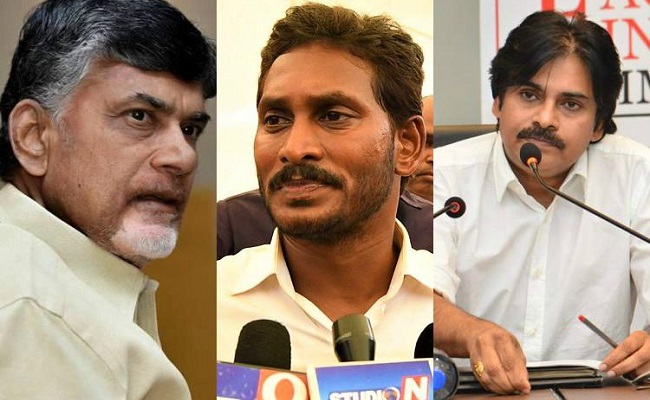 Even as the YSR Congress party leaders are on cloud nine over the latest survey conducted by Times Now-ETG on the poll outcome, another independent survey conducted by another agency Sri Atma Sakshi (SAS) group has predicted that the Telugu Desam Party headed by Naidu is in an advantageous position.
The SAS, which conducted the phase-I of the "Mood of Andhra Pradesh" survey for 2024 elections in September 2022 predicted that the TDP would get 77 seats, YSRCP 56 seats and Jana Sena four seats, while there would be keen contest in another 38 seats.
After a gap of six months, they claimed to have conducted another survey in February this year and the result was that the YSRCP would get 63 seats, TDP 78, Jana Sena-8 and there would be keen contest in 27 seats.
But the latest survey conducted as on September 30 gave a different picture. This time, the survey was done in a most comprehensive manner, covering various sections of people in each constituency. The survey was taken into consideration the impact of TDP president N Chandrababu Naidu's arrest and his alliance with Jana Sena headed by Pawan Kalyan.
While a majority of the respondents of the survey said the TDP-Jana Sena Party alliance would win comfortable seats to come to power, more than 46 percent of them also replied that they would prefer Jagan Mohan Reddy as the next chief minister, while only 40 percent favoured Chandrababu Naidu and only 9 percent want to see Pawan Kalyan as the CM.
The latest survey also revealed that if the TDP, YSRCP, Jana Sena and BJP contest the elections separately, TDP will get a vote share of 44 percent, while the YSRCP will get 41.5 percent and JSP only 10 percent.
But if the TDP and JSP fight the elections together, they will get 50 percent vote share, while the YSRCP will get 43 percent. Surprisingly, the BJP joins the TDP and Jana Sena alliance, it will be advantageous to the YSRCP, which will get 47 percent votes, while the alliance will get only 43 percent. There will be a silent vote factor of 5 percent, it said.
If there is no alliance between the TDP and the Jana Sena, the TDP will get 86 seats – four short of majority, whereas YSRCP will get 68 seats and Jana Sena will get six seats, with keen contest in 15 seats.
In case of an alliance between TDP and Jana Sena, the TDP would get 95 seats, Jana Sena will get 13 seats and YSRCP will get 60 seats with keen contest in seven seats.