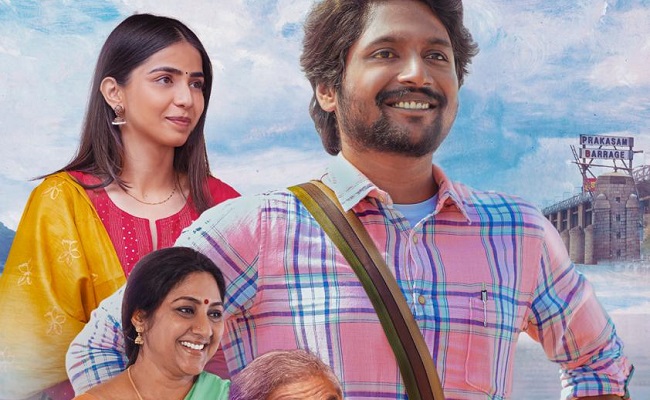 Movie: Writer Padmabhushan
Rating: 2.75/5
Banner: Chai Bisket Films and Lahari Films
Cast: Suhas, Tina Shilparaj, Rohini, Ashish Vidyarthi, Sri Gouri Priya, Goparaju Ramana and others.
Music: Shekhar Chandra
Cinematographer: Venkat R Shakamuri
Editing: Kodati Pavan Kalyan, Siddharth Thatholu
Producers: Anurag Reddy, Sharath Chandra, Chandru Manoharan
Story, dialogue, Screenplay & Direction: Shanmukha Prasanth
Release Date: Feb 03, 2023
'Color Photo' established comedian Suhas as an actor in the film industry. Suhas returned to the hero role in "Writer Padmabhushan," which arrived in the theaters today.
Let's find out its merits and demerits.
Story:
Padmabhushan (Suhas) and his parents live in Vijayawada. His mother, Saraswathi (Rohini), is a housewife, and his father Madhusudan (Ashish Vidyarathi), is a clerk in an office.
Padmabhushan, a library worker, aspires to be a well-known author. Using his own funds, he puts out a book with the uninspiring title "Toli Audugu," which receives little attention.
Suddenly, an uncle they hadn't seen in years sends out wedding invitations and, from the dais, announces that he'll be marrying off his younger daughter to Padmabhushan, who happens to be a famous writer.
Many people, including his fiancee, believe he is a talented author who has written a number of books. Without his knowledge, someone is also writing a blog under his name.
Padmabhushan's current mission is limited to identifying the blog's author and the novelist who has been using his name.
Artistes' Performances:
Suhas is the film's main strength. He becomes the character. His comic timing is superb. Later in the film, he is also required to perform emotional and sentimental sequences, which he does admirably. Suhas' acting keeps our attention despite his imitation of Nani at times.
Rohini and Ashish Vidyarthi stand out among the other actors. Tina Shilparaj is okay. Gowri Priya is similarly adequate for the role.
Technical Excellence:
The production budget for this movie is relatively low. The camerawork is only so-so. The production design is similarly average.
The first half could have benefited from a more liberal application of the scissors by the editing team.
Highlights:
Climax portion
Message
Humor at places
Drawback:
Old-school presentation
Dull First half
Wafer thin story
Analysis
"Writer Padmabhushan" is a sentiment drama with a profound message, although it initially presents itself as a romantic comedy.
Okay, so first things first. The story takes place in Vijayawada, and it's about a young man who dreams of being a famous author. His efforts to promote his book and gain fame provide comedic material. The first half of the movie takes its time and focuses on these aspects. There are a lot of repetitive sequences that ruin the first half of the film.
Furthermore, the events make us wonder if the story is set in the 1980s. Because, in today's world, no father would happily marry off his daughter to a Telugu writer with limited financial means.
To tell the truth, a Telugu author must front the cash for book printing and promotion. Telugu authors can forget about becoming well-known; they must instead give away free copies of their books to close friends and family.
When the hero's blog goes viral and his estranged uncle agrees to let him marry his daughter, the city of Vijayawada is depicted in the film as erupting in celebration. Such scenes prove that the director has no knowledge on current situation of the Telugu literary world.
Even the girl's supposed attraction to this author isn't convincing. Despite a few amusing moments, the film's first half fails to engage viewers.
Final act of "Writer Padmabhushan" has a surprising twist and an emotional angle, and the film as a whole depends on it. The plot twist is integral to the film's overall message (We are not mentioning it to avoid spoilers). The message is strong, and the emotional sequences are handled well.
This final section and the message make up for the uninteresting opening sequences "Writer Padmabhushan. In the end, the film turns out to be a pretty decent one.
In conclusion, "Writer Padmabhushan" has a strong climax but falls short in the rest of its dramatic elements.
Bottom line: OTT Padmabhushan