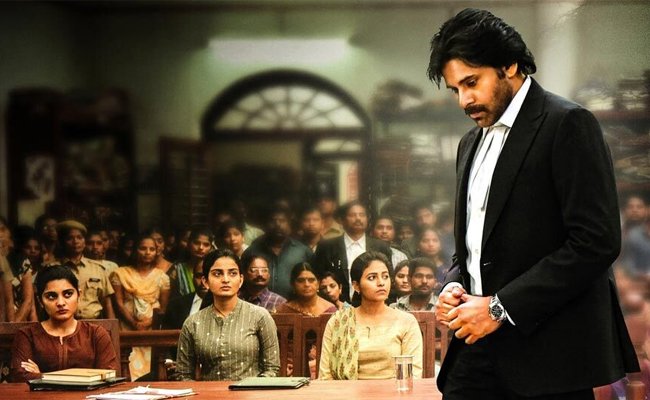 Movie: Vakeel Saab
Rating: 3/5
Banner: Sri Venkateswara Creations
Cast: Pawan Kalyan, Shruti Haasan, Anjali, Nivetha Thomas, Prakash Raj, Ananya Nagalla, and others
Dialogue: Mamidala Tirupathi
Music: Thaman SS
Cinematography: PS Vinod
Editor: Prawin Pudi
Production Designer: Rajeevan
Producers: Raju - Sirish
Screenplay - Direction: Sriram Venu
Release Date: April 09, 2021
"Vakeel Saab" is the most-anticipated movie of the year. Pawan Kalyan who has been dabbling in politics as well is making comeback to the cinema after a long gap of three years. Amidst high expectations, the film is here to enthrall the audiences.
Let's analyze.
Story:
Vemula Pallavi (Nivetha Thomas), Zareena (Anjali), and Divya (Ananya Nagalla) are roommates and they go to a party with the invitation of one of the girl's friends Vamsi. At the party, Vamsi tries to molest Pallavi and she hits him with a bottle. Both boys and girls file cases against each other.
Satya Dev (Pawan Kalyan), a lawyer who has his issues to deal with and demons to battle with, takes up the girl's case. Nanda (Prakash Raj) defends the boys.
Can Vakeel Saab win the case as all circumstantial evidence is against the three girls?
Artistes' Performances:
For any actor to step into the shoes of a character that was originally played by legendary actor Amitabh Bachchan is a big challenge. Pawan Kalyan, however, has played the role in his style, showcasing his star charisma as well as some intense acting in the second half. He looks quite old to play the role of a student in the flashback episodes.
Shruti Haasan appears as Pawan Kalyan's woman in a flashback episode.
Nivetha Thomas, who proved her mettle in several films, has utilized her meaty role effectively exhibiting impeccable acting skills. As Pallavi, she leaves a strong mark. Anjali and Ananya both fit perfectly in their roles. Anjali delivers a solid performance in a breakdown sequence.
Prakash Raj as lawyer Nanda is exceptional as always.
Technical Excellence:
Unlike 'Pink', "Vakeel Saab" is made on a bigger budget. PS Vinod's camera work shines in the courtroom sequences. The sets and the overall production design by Rajeevan are authentic and classy.
Thaman's songs are apt to the theme. The 'Maguva Maguva' song has already been a chartbuster. But his real talent can be seen in the background score.
Dialogue writing is neat. Editing should have been crispy.
Highlights:
The message of the film
Arguments in the court
Pawan Kalyan's star power
Drawback:
Unengaging Pawan Kalyan's flashback
Overt commercial elements
Unnecessary fights & political dialogues
Analysis
'Vakeel Saab' is the official remake of the 2016 Bollywood movie, Pink. The Hindi film was essentially a court drama. It was later remade with Ajith in Tamil.
While the core of the story is faithful to the Hindi version, Telugu director Sriram Venu has also made many changes to keep Pawan Kalyan's fans happy.
Unlike the original movie, this one starts with the "Maguva Maguva" song which talks about the virtues of women, and how the world would be without them.
"Vakeel Saab" begins with three young women and how they landed in a case. After setting up this point, Pawan Kalyan enters into the scene as a lawyer with a drinking habit.
For about 20 minutes, the movie switches between the three girls' story and Pawan Kalyan's sequences and then suddenly goes into his flashback episode.
The flashback story is lengthy and reveals what made him become a lawyer and how he met his wife (Shruti Haasan) and how did she die. This part of the story may appeal to Pawan Kalyan's fans but for the common audience, it is quite boring.
Moreover, Pawan Kalyan also looks quite jaded in this portion. There are many political dialogues as well which don't work much.
Thankfully, the film comes to the main point of 'Pink' from the interval and doesn't deviate further. It is the second half of the film that has worked well.
The film attacks on the mindset of tagging women based on their and exposes the rules laid by society for women.
Although the entire second half takes place in the court, the director has made sure it to be an engaging watch by adding some additional scenes and good dialogues between Prakash Raj and Pawan Kalyan.
We can see in two ways about this film: either as, it has overtly diluted the strong message for commercial reasons, or as a big star movie that also is faithful to the original message. Either way, "Vakeel Saab" makes a decent watch.
Despite the aforementioned issues, "Vakeel Saab" is a movie with a message in a commercial format. Some portions have worked well, some have not. But it makes a perfect comeback for Pawan Kalyan.
Bottom-line: Mass-fied Pink!
Click Here for Latest Direct-to-OTT Releases (List Updates Daily)