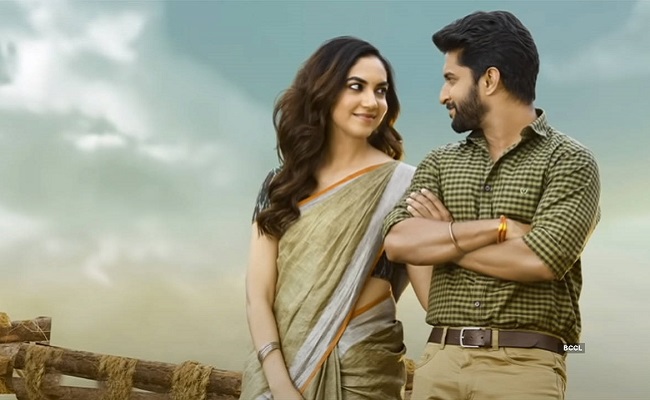 Movie: Tuck Jagadish
Rating: 2.75/5
Banner: Shine Screens
Cast: Nani, Ritu Varma, Aishwarya Rajesh, Jagapathi Babu, Danial Balaji, Nasser, Rao Ramesh, and others
Cinematography: Prasad Murella
Music: Thaman, Gopi Sundar
Editor: Prawin Pudi
Producers: Saahu Garapati Harish Peddi
Written and direction: Shiva Nirvana
Release Date: Sep 09, 2021
Streaming: Amazon Prime
One of the biggest movies that has skipped the theatrical window this year is Nani starrer "Tuck Jagadish". The film made it to the headlines for various reasons. It has also created a lot of buzz.
Director Shiva Nirvana and Nani coming together is the reason for the high expectations of this film. Has it met the expectations? Let's find out.
Story:
In a village named Bhudevipuram, Adiseshulu Nayudu (Nasser) is a well-known landlord. His dream is to see his village free of killings and vengeance.
Nasser has three sons and two daughters. Elder son Bose (Jagapathi Babu) and younger son Jagadish Naidu (Nani) were born to his first wife, but the rest are from his second wife Arjunamma.
Although they live happily together as one close-knit family, Bose shows his true colors after the death of their father.
Bose refuses to give them any part in the properties and throws them away from his house. Furthermore, Bose joins hands with their rival Veerandra Naidu (Daniel Bajali).
What will Jagadish do to unite their family? What is the secret that Jagadish has been hiding from them?
Artistes' Performances:
Nani has come up with another winning performance. The role of a guy who is obsessed with binding his family together is clichéd, but the characterization is a bit different from the regular trend. As always, he gives his best in sentiment scenes. His performance in the last 30 minutes is terrific.
Ritu Varma as his girlfriend is simple and cute. Aishwarya Rajesh gets an important role as well.
Malayalam actress Malaa Parvathi in the role of mother adds strength to the sentiment scenes.
Jagapathi Babu shows variation in two shades of his character. The other actors have played in their usual selves.
Technical Excellence:
Two songs are good. Gopi Sundar's background score has elevated the mood in many places. Prasad Murella's cinematography and artwork are appropriate. The action stunts are typical. Dialogues are good. Shiva Nirvana's mark can be seen in the dialogue writing.
Highlights:
Pre-interval sequence
Nani's acting
Some family scenes
Drawback:
Clichéd moments
Analysis
Director Shiva Nirvana has once again played a safe game of writing a familiar story. The family sentiment is the theme that he has chosen for "Tuck Jagadish".
In the '90s and early 2000s, Venkatesh used to dish out such stories – a good son going all out to bind his family together by indulging in sacrifices and bearing the misunderstandings. "Tuck Jagadish" has all these elements. But Shiva Nirvana presents it differently.
He begins the story as if it were a commercial action drama by showing the killings and the acts of vengeance in the village and bringing the hero into the story after 15 minutes. Then we see the romantic thread between Nani and Ritu Varma.
The first half goes in the similar style of mass hero movies, and the interval twist has the same touch. But it is essentially a family sentiment drama. The second half makes it loud and clear.
The scenes between Nani and Jagapathi Babu, Nani and his mother, Nani and Aishwarya Rajesh are filled with a heavy dose of sentiment. They are formulaic scenes. However, Shiva Nirvana also makes sure to evoke emotions. He relies on the third act of sentiment dose, which worked well.
The pre-interval scenes are conceived and executed ably.
But many situations in the film are also laughable – like he is suddenly appearing as an officer, a hero waiting outside Aishwarya Rajesh's house every night in the hope that she needs his help, etc. All things happen for the convenience of the story.
Shiva Nirvana has also presented Nani as a masala hero in certain scenes (the action scenes, the fight in a field, etc), to cater to all audiences. Also, Ritu Varma becomes just another character in the setup in the second half.
Despite these problems, "Tuck Jagadish" gets family emotions right. Nani holds our interest in his able performance.
All in all, it is a mixed bag. But it makes a neat watch on the OTT platform. The makers made a wise decision of releasing it on Amazon Prime instead of theaters.
Bottom-line: Nani Holds The Show
Click Here for Latest Direct-to-OTT Releases (List Updates Daily)