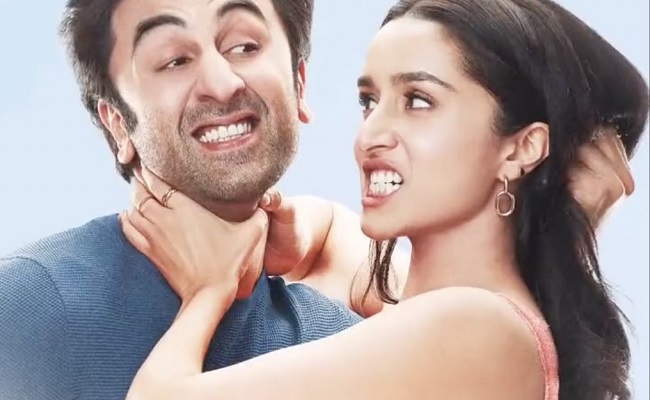 Movie: Tu Jhoothi Main Makkaar
Rating: 3/5
Banner: Luv Films & T-Series Films
Cast: Ranbir Kapoor, Shraddha Kapoor, Anubhav Singh Bassi, Dimple Kapadia, Boney Kapoor, Hasleen Kaur. Inayat Verma, Monica Chaudhary, Kartik Aaryan (cameo), Nushrat Bharucha (cameo) and others
Written by: Rahul Mody, Luv Ranjan
Music: Pritam
DOP: Santhana Krishnan Ravichandran
Editor: Akiv Ali, Chetan M. Solanki
Producers: Luv Ranjan, Ankur Garg, Bhushan Kumar, Krishan Kumar
Direction: Luv Ranjan
Release Date: March 08, 2023
Ranbir Kapoor, one of India's biggest stars of his generation, has returned to the rom-com genre after a long hiatus. His collaboration with director Luv Ranjan, who has recently delivered youthful entertainers, has sparked interest. The songs have gone on to become chart-topping hits.
Let's see if the film is worth getting excited about.
Story:
Rohan Arora, also known as Mickey (Ranbir Kapoor), is a wealthy scion of an affluent family. Apart from owning car dealerships and jewellery stores, he also runs a real estate development company. Additionally, he operates a covert relationship-breakup service, assisting those who wish to end their partnerships but avoid appearing villainous in the process. This is his secret job.
His friend Manu Dabas (Anubhav Singh Bassi) is getting married, so he and his best friend take a stag trip to Spain. Tinni, also known as Nisha Malhotra (Shraddha Kapoor), a friend of Manu's fiancee, also joins them.
When Mickey meets Tinni, he immediately falls madly in love with her. When they return to Delhi, he introduces her to his loved ones. Tinni feels awkward and decides to break up with Mickey over the phone with the help of a breakup agent as both parties' families prepare for the wedding. It turns out that Mickey is the agent, which she had no idea about. What happens next?
Artistes' Performances:
A talented actor like Ranbir Kapoor was essential to the plot. From the opening to the closing credits, he carries the entire movie on his back. Ranbir is at the top of his game and completely charming. He convincingly portrays the swooning hero and the jilted suitor. No matter the scene, whether it's a romantic one, a comedic one, or one requiring him to dance or flirt, Ranbir holds our attention.
Shraddha Kapoor steals the show in this film, even though she can't compete with Ranbir. She's a breath of fresh air. In the first half, she lets loose by baring skin and flirting, while in the second half, she deftly navigates the emotional waters.
Anubhav Singh fulfils his role as a friend admirably. Dimple Kapadia, an elderly actress, always commands attention whenever she appears in a film. The supporting cast has also done a great job. The cameo by Kartik Aaryan is also quite amusing.
Technical Excellence:
The music of Pritam is fantastic. "Tere Pyaar Mein" is the best and foot tapping. The cinematography and set design both seem very lavish. The film's visual style reflects its subject matter, which is about affluent people, by being rich. One-liners can be very funny at times. Sharp editing was required.
Highlights:
Ranbir Kapoor's performance and charm
Shraddha's oomph and playful act
Pritam's Songs
Drawback:
The monologues in the first half
Lengthy running time
Looks jaded at times
Analysis
Those familiar with director Luv Ranjan's previous blockbuster hits, such as "Pyaar Ka Punchnama" and "Sonu Ke Titu Ki Sweety," will have a good idea of what to expect from the new film "Tu Jhoothi Main Makkaar," starring Ranbir Kapoor and Shraddha Kapoor.
The director is well known for telling romantic comedies from the male protagonist's perspective, and his films often feature witty one-liners. However, some critics have accused his films of being sexist.
There are echoes of his earlier films in "Tu Jhoothi Main Makkaar," but the director has also included some surprises, especially considering he is now working with a much bigger star. The second half of the film is where you'll find the biggest surprise, a heartfelt family drama.
Early on, the film has the lightheartedness of a typical romantic comedy. The beginning is a little slow, but things pick up once Shraddha Kapoor enters the picture, and the flirtatious romance between the lead pair is entertaining. The attractive couple makes up for the often tedious monologues.
As the story moves to the interval break, the film takes a turn for the unexpected and delivers some pleasant surprises, turning from a romantic comedy to a family drama.
The story also gives enough room to the female protagonist, who is a financially independent woman looking for space. Although the conflict point doesn't hold water, the movie is entertaining to watch.
A spoof-like airport sequence in the last part is also funny, but many sequences require a strong suspension of disbelief. The story is also not strong.
Overall, "Tu Jhoothi Main Makkaar" is a typical love story set in a modern context, complete with a charismatic lead pair, catchy music, and a lush background. It's a fairly enjoyable movie to watch, with Ranbir Kapoor stealing the show.
Bottom line: Fun Watch