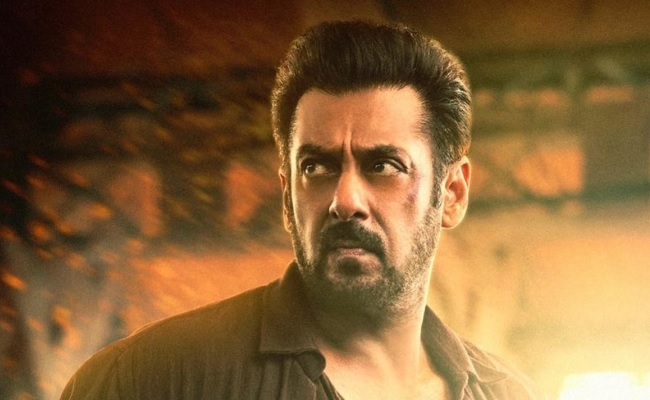 Film: Tiger 3
Rating: 2.5/5
Banner: Yash Raj Films
Cast: Salman Khan, Katrina Kaif, Emraan Hashmi, Revathi, Simran, Riddhi Dogra, Vishal Jethwa etc.
Music: Pritam, Tanuj Tikku
DOP: Anay Goswamy
Editor: Rameshwar S Bhagat
Producers: Aditya Chopra
Directed by: Maneesh Sharma
Release Date: Nov 12, 2023
This marks the third installment of the popular spy franchise 'Tiger' by Yash Raj Films. Expectations for this film are particularly high, given the success of the same banner's blockbuster "Pathaan," which still resonates in the minds of the audience.
Let's explore the details to uncover what this film has to offer.
Story:
Tiger (Salman Khan) gets a job to go to Russia and rescue an important person. There, at St Petersberg in Russian, he finds out that Zoya is supposed to kill that person.
Tiger saves him and talks to Zoya (Katrina Kaif). She explains that Aatish Rehman (Emraan Hashmi), a former ISI agent, made her do the mission by holding Junior hostage.
Aatish makes Tiger and Zoya do another job in Istanbul, but they get framed as traitors by their own countries.
Because of this, Tiger and Zoya go on a dangerous mission to get back at Aatish and stop him from ruining Pakistan and thus building peace between Pakistan and India.
Artistes' Performances:
Salman Khan delivers his usual impeccable performance in his role.
Katrina Kaif portrays a gripping character, blending toughness with sensitivity in certain scenes. Her much-anticipated 'towel fight' is well-received, though it's a brief moment.
Emraan Hashmi excels in his role, portraying the perfect villain with precise gestures and body language.
Simran, as Prime Minister Nasreen Irani, meets the requirements of her character. For Telugu and Tamil audiences, seeing their favorite heroine from earlier times, reappear as the Prime Minister of Pakistan can be a delightful experience.
Revathy, in her role as the RAW Chief, fulfills her part effectively.
The guest appearance of SRK elicit huge applause in the theater.
Technical Excellence:
The movie shows strong technical expertise. The camera work and sound arrangement are top-notch. Tanuj Tiku's background music elevates many regular scenes, on par with that of Hollywood films. The set designs are well done.
Highlights:
Star Cast
Action Sequences
Production values
Drawback:
Amateur making in parts
Contrived scenes
No tension moments
No haunting songs
Analysis:
The movie begins by emulating scenes from the previous James Bond series, incorporating all the anticipated high-voltage action sequences, gravity-defying stunts, and entertaining yet illogical fighting episodes.
However, when the film demands a serious approach, it falls short.
A glaring example is the handling of the scenario where the Pakistani PM needs to be rescued; it is treated in a childish manner with excessive cinematic liberties, lacking conviction packed with contrived scenes.
Furthermore, the protagonist's character is designed to rely more on brawn than brains.
The anticipated and enjoyable episode where Saha Rukh Khan comes to Salman Khan's aid is dealt with a lighter touch, aligning with the tone of Salman's guest role in "Pathaan". Yes, here Pathaan comes to Tiger's assistance.
While the theme of protecting the Pakistani PM Irani, reminiscent of Benazir Bhutto, is intriguing, the narrative fails to deliver a breathtaking storytelling experience. The potential for a gripping tale around foiling the assassination plan remains unrealized.
The concept of a RAW agent and ISI agent in love adds an interesting dimension, but the execution falls short, focusing more on capturing the attention of a teenage audience rather than crafting a mature script with edge-of-the-seat moments.
The idea of RAW and ISI agents collectively working towards upkeeping the democracy in Pakistan is novel.
Like a classified spying mission in the film named as 'Time Pass,' the film also lives up to the same title – a 'time pass' entertainer with no significant Diwali blasts or sparks.
Bottomline: No Loud Roar