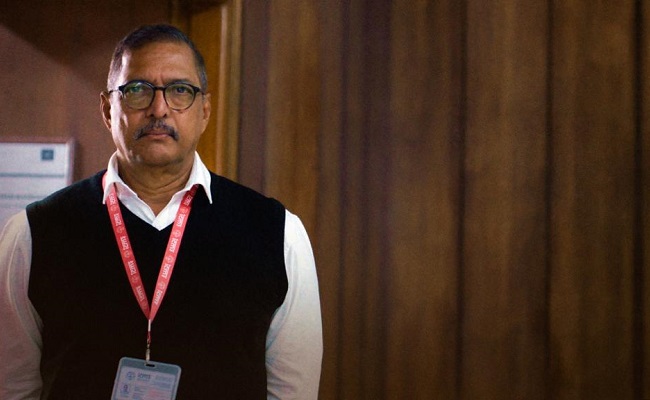 Film: The Vaccine War
Rating: 1.5/5
Cast: Nana Patekar, Pallavi Joshi and Nivedita Bhattacharya
Music: Rohit Sharma, Vanraj Bhatia, Swapnil Bandodkar and Shreya Kaul
Cinematography: Udaysingh Mohite
Director: Vivek Agnihotri
Release Date: Sep 28, 2023
Some filmmakers do get carried away with adulation from a section of movie-watchers who are out and out rabid supporters of an ideology. For obvious reasons, their captive audience is charged up and won't listen to any contrarian opinion from another group of followers.
I am all for political affiliation, but when it comes to the arts, such loyalties should not interfere with the body of your work to the extent that it degenerates into propaganda.
Vivek Agnihotri, who is hellbent upon proving his loyalty to the present ruling dispensation, has been making movies with a single-point agenda: to flag as biased an opinion that is contrary to the one he professes and rewrite history to suit his extreme right-wing beliefs.
Two of his earlier films, The Kashmir Files and The Tashkent Files, tried to create the myth that he believes is nothing but the truth. Really?
For obvious reasons, he has scant regard for some of our most illustrious historians. And he propagates his own prejudiced one-sided viewpoint with ludicrous justifications.
His latest, 'The Vaccine War', has an interesting premise: to project India as the saviour of the world during the Covid-19 pandemic that killed thousands of people globally.
Also hailed are India's unsung heroes, primarily all the doctors, nurses and support staff, and the unacknowledged scientistsm who were mostly women. We all know that these warriors struggled, fought and spent sleepless nights and endeavoured to develop vaccines indigenously.
So far so good.
The film is based on former ICMR director-general Dr Balram Bhargava's book, 'Going Viral: Making Covaxin', that digs deep into the lives of the scientific community. It deteriorates into the vortex of propaganda and underscores Agnihotri's personal single-point agenda of broadcasting and proliferating baseless right-wing entitlements and assertions.
What the film does is malign those journalists who rightly questioned the ruling party's grand claims of being capable of producing the vaccine. So naturally, they are the antagonists.
Picture this. A high-profile television scribe who's the science reporter Rohini Dhulia (Raima Sen) is dubbed "enemy" only because she does her job, questions the establishment and follows the tenets of journalism.
She seems to be the only one raising uncomfortable questions about the claims of the vaccine's efficacy. She represents the independent media, but as was to be expected, she is proven wrong when she questions Dr Bhargava (played by Nana Patekar) about the secrecy that surrounded the business of the making and distributing the vaccine.
Towards the end of this 160-minute film, Dr Bhargava humiliates her publicly and calls her a "terrorist", which is the message that Agnihotri sends across about journalists who still believe in the principles of journalism.
The probing journalist is shown as someone who is against the policy of self-reliance ('atma nirbharta') and makes every possible effort to prevent the honourable task of manufacturing the vaccine in India.
Priya Abraham (Pallavi Joshi) is the head of the Pune-based National Institute of Virology and, like Bhargava, is forever at war with the media, and brands all the stories coming out in the press as an "information war".
If Rohini is seen as the chief villain, the eccentric Dr Bhargava has a dedicated team of women scientists: Priya Abraham (Pallavi Joshi), Pragya Yadav (Nivedita Bhattacharya) and Nivedita Gupta (Girija Oak), all holding responsible positions as scientists and working tirelessly day and night to achieve their desired goal. Together, they all look convincing and focus on what is described as India's first film on "bio-science war".
The film's focuses, of course, on the disastrous effects of Covid-19. It also tries to educate us about how India managed to make the vaccine in just seven months, a fact that was questioned by even the World Health Organisation (WHO) before it mysteriously changed it opinion.
Even as he underlines the film's "honest and truthful" tone, Agnihotri only succeeds in stoking nationalist sentiments and maligning journalists. The screenplay replaces the pursuit of the truth with a penchant for melodrama.
What got my goat is the unsubstantiated declaration that it was for the first time that India made a vaccine independently, whereas the NIV has been around since 1952 (till 1978 as the Virus Research Centre).
Lensman Udaysingh Mohite ensures all labs are made to look first rate. One has just seen 'Oppenheimer', another science-based film. It is far more impactful with the characters looking as stoic as they get. That's Hollywood for you.
Closer home, our actors need to have the emotional connect for viewers to feel charged up. And so, tight close-ups prove that the scientists and frontline workers are having a tough time, neglecting their families and being devoted to a job that's in the national interest. Mercifully, music is restricted to the background score and a song that also plays in the background.
Who's going to tell Agnihotri that vaccines have been produced in India for over a century. The Serum Institute of India, maker of Covishield, has developed at least four indigenous vaccines -- anti-tetanus, anti-snake venom, anti-diphtheria and MMP (measles, mumps and rubella).
India developed the smallpox vaccine in 1965, oral polio vaccine in 1970 and the H1N1 vaccine in 2009. In any case, Covaxin wouldn't have happened without systems and capacities being built over 70 years. India has been a world leader in generics and biosimilars for decades before Agnihotri started making films! So what is he tom-tomming about?
Many feature films or period cinema are treated as chronicles of the world. I am afraid 'The Vaccine War' is nothing but slanted, distorted and propagandist torture all the way.'