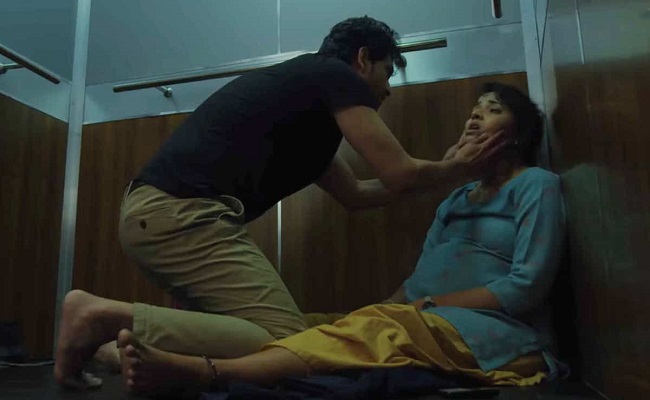 Movie: Thank You Brother!
Cast: Anasuya Bharadwaj, Viraj Ashwin, Annapurnamma, Kadambari Kiran, Mounika Reddy and others
Music: Guna Balasubramanian
Cinematography: Suresh Ragutu
Editor: Uday Kumar, Venkat G
Art: Purushotham Prem
Producers: Magunta Sarath Chandra Reddy, Taraknath Bommi Reddy
Written and Direction: Ramesh Raparthi
Release Date: May 07, 2021
Streaming on: Aha Video
Due to the second wave of the COVID-19, the theatrical business has come to a standstill again. The first movie to have a direct-OTT release in this season is Anasuya starrer "Thank You Brother". It is streaming now on Aha Video.
The film follows two strangers who get trapped in an elevator in a building. One is a pregnant lady and the other is a young guy. Priya (Anasuya) is expecting her first child with her husband who had died recently. Priya goes to an apartment to collect a cheque from her husband's factory manager. Abhi (Viraj Ashwin), a rich spoiled brat, comes to the same apartment on his work.
Both of them find themselves trapped inside the stalled lift.
With lockdown in the city due to COVID-19, the lift mechanic is not readily available to rescue them. Meanwhile, pregnant Priya goes into labour. As time is ticking, will they survive? What will Abhi do to save the mother and child?
For a movie with only 100 minutes of runtime, "Thank You Brother" feels longer as it has a paper-thin story.
No doubt that the plot is somewhat fresh as it not often that we get to such 'elevator thrillers'. Hollywood has dished out many thrillers based on the theme of people trapped in an elevator. "Thank You Brother" featuring Anasuya Bharadwaj is said to be the first such one in Telugu.
Despite having a not-so-regular plot, the film suffers from the lethargic narration. Instead of focusing on the main point of people getting trapped in the elevator and their rescue mission, the director uses flashbacks to focus on Viraj Ashwin's flamboyant lifestyle, his insolent behavior, and the issues with his mother. He also cuts to a flashback of Anasuya's marital life with her husband with a song. With little focus on the actual point, the film turns out to be a dreary thriller.
It also fails to get the basics of character development right. Plus, "Thank You Brother", lacks any form of suspense, that is essential for these kinds of thrillers. The 40 minutes of Viraj's backstory is so boring.
Talking about performances, Anasuya as a pregnant lady is apt. She puts up a strong performance. Viraj Ashwin is suited well to the role of a spoiled brat but his acting is not compelling at all. Viva Harsha and other comedians bring nothing to the board.
Among the technicians, the cinematographer stands out. The claustrophobic lift sequences are shot well.
Director Ramesh Raparthi's weak narration makes it a boring watch despite having a relatively fresh story.
Bottom-line: Lift Baby!