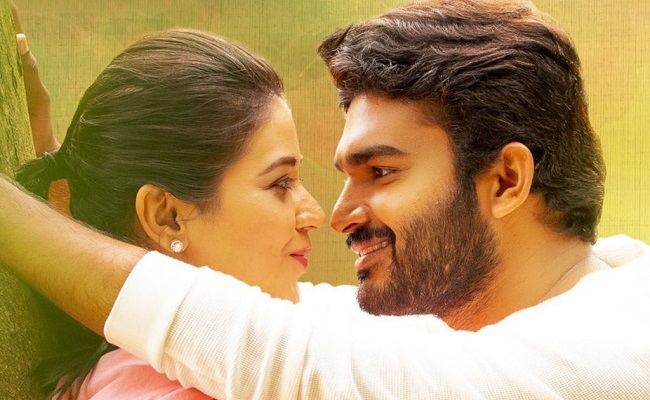 Movie: SR Kalyana Mandapam
Rating: 2.5/5
Banner: Elite Entertainments
Cast: Kiran Abbavaram, Priyanka Jawalkar, Sai Kumar, Tulasi, Srikanth Iyengar,
and others
Music: Chaitan Bharadwaj
Cinematography: Viswas Daniel
Producers: Pramod, Raju,
Story, screenplay, Dialogue: Kiran Abbavaram
Editing- Direction: Sridhar Chotu
Release Date: August 6, 2021
Thanks to its trailer and songs, this small film starring budding actor Kiran Abbavaram created a good buzz. "SR Kalyanamandapam" is the notable release this weekend.
Let's find out its merits and demerits.
Story:
Set in Rayachoty in Kadapa district in Andhra Pradesh, the film narrates a young Engineering college student Kalyan (Kiran Abbavaram), and his relationship with his father (Sai Kumar) and his love story with classmate Sindhu (Priyanka Jawalkar).
Everyone thinks Kalyan's father Dharma is a failure in life, messed business of their function hall named SR Kalyana Mandapam. Kalyan has also stopped talking to his father for many years.
Dharma is addicted to alcohol and craves his son's love. Meanwhile, Kalyan renovates the function hall and restarts the business with innovative ideas. Sindhu gets engaged to another person, and her wedding is to take place in Kiran's function hall.
The rest of the movie is about how Kalyan mends his broken relationship with his father. He also needs to win Sindhu's love.
Artists' Performances:
For young actor Kiran Sabbavaram, this is the second film, but he has shown a lot of ease in expressions and pulled off delicate emotions effectively. However, like most of the Telugu heroes, he plays to the gallery with unnecessary build-up shots and idiotic situations. He has good screen presence and acting skills.
Sai Kumar shows his experience in the role of a father. He shows the mark in the climax sequences.
Priyanka Jawalkar in her second consecutive release after last week's "Thimmarusu" has appeared in a poorly written character. She needs to check her weight. Or filmmakers should stop raving about her 'navel' part.
The other actors don't make much impact.
Technical Excellence:
The film is shot in a small town in Rayachoty. The unexplored locations on screen have lent novelty. The cinematography is decent. But the technician who scores marks is music director Chaitan Bharadwaj.
Two songs are catchy. Dialogues written by Kiran Sabbavaram are okay. The editing and pace of the film are a drawback.
Highlights:
Kiran Abbavarm's ease in acting
Some entertaining portions
Two songs
Drawback:
Inconsistent narration
The unclear theme of the plot
Heroine Priyanka Jawalkar
Lack of proper conflict
Lengthy runtime
Analysis
The story, screenplay, and dialogue of "SR Kalyanamandapam" are written by the film's lead hero Kiran Abbavaram. It is a showreel – that he can act, write and do a lot more things in a film. He debuted in a film called "Raja Vaaru Raani Vaaru", a story set in Konaseema, two years ago.
In this second film, he has managed to mouth dialogues in Rayalaseema slang. Apparently, he can pull off dialects effortlessly. If he wanted to prove his talent to the movie industry and the audience with this film, we must say he has succeeded.
But if we look at the film as is, it is not all convincing. Far from engaging!
"SR Kalyanamandapam" begins as a love story. The entire first half of the film focuses on the hero trying to impress his classmate, his banter with his friends, the hero's attitude, and some entertaining episodes. Only in the final act that it becomes clear to us that the story is more about the hero and his father's relationship. The love story is just icing. It has not mixed well.
While the entertaining portions are okay, the over focus on the function hall and its history, hero's fights with various goons, and other unnecessary sequences have added fat to the lengthy runtime.
There is also a clichéd pellikoduku track with the heroine, which has not worked at all. The actor who played the role should have been a comedian to evoke laughs.
Priyanka Jawalkar looks obese, and the hero keeps talking about that he has fallen in love after seeing her beautiful navel part.
The entire romantic track in the first half is routine. The predictability of the story and the lack of deft direction is a big issue.
Despite the issues, the film has an emotional core in the final portion. The reason why the hero stopped talking to his father is handled well. The father-son element is the main highlight.
On the whole, "SR Kalyanamandapam" suffers from a lot of issues, but the main drawback is inconsistent narration with a weak plot. The only saving grace is Kiran Abbavaram's screen presence.
Bottom-line: Unconvincing
Click Here for Latest Direct-to-OTT Releases (List Updates Daily)