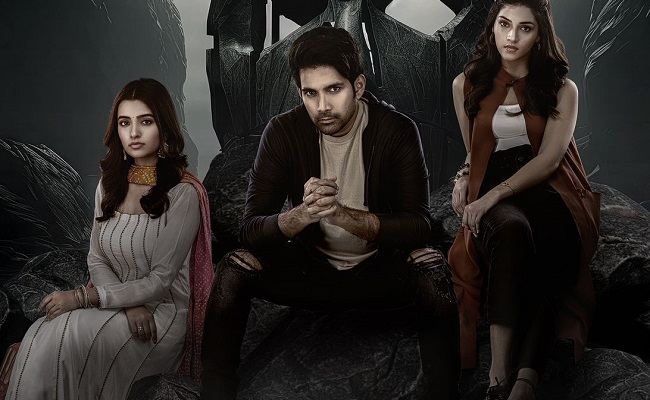 Movie: Spark L.I.F.E
Rating: 2/5
Banner: Deaf Frog Productions
Cast: Vikranth, Mehreen Pirzada, Rukshar Dhillon, Guru Somasundaram, Nasser, Vennela Kishore and others
Story and Screenplay: Vikranth
Dialogues: Umarji Anuradha, Vikranth Reddy, Mahesh, Thottempudi Swamy
Music: Hesham Abdul Wahab
DOP: A R Ashok Kumar
Editor: Prawin Pudi
Art Director: S Ram Prasad
Action: Jaguvar Krishnan
Producer: Leela Reddy
Directed by: Vikranth
Release Date: Nov 17, 2023
A new actor named Vikranth written and directed "Spark". He invested big money in his maiden attempt. He also roped in well-known faces in the main roles.
Let's find out whether the newcomer's confidence in his talent paid off.
Story:
The story progresses in conjunction with events in Vizag and Hyderabad. Lekha (Mehreen) in Hyderabad is madly in love with the man who appears in her dreams. One day, her dream man, Arya (Vikranth), moves into the house directly across the street from hers.
On the other side, weird deaths begin to occur in Hyderabad, including Lekha's friend (Lahari). She cuts her throat herself before murdering her parents.
Jay (Vikranth) in Vizag is in love with doctor Ananya (Rukshar), but she, too, gets killed herself. Jay and Arya are eventually found to be the same person.
Why are these killings taking place, and how will Arya/Jay solve the mystery?
Artistes' Performances:
Vikranth appears to be okay while he maintains a serious expression during the inexplicable fatalities. However, he possesses a limited set of expressions.
Rukshar portrays a medico and is given the better role of the two female leads. Mehreen plays the stereotypical female lead.
Guru Somasundaram, a Tamil actor, is a good fit for the part of a turncoat scientist.
Vennela Kishore and Satya are present, although they don't get much opportunity to do comedy. Nasser and Suhasini are also present just for the sake of the 'top' cast.
Technical Excellence:
A lot of money appears to have been spent to get the rich look and frames. Hesham Abdul has given two good romantic songs. The songs are also lavishly picturised.
The dialogue writing, screenplay, and editing are all poor.
Highlights:
The 'spark – army' episode
Lavish production values
Drawback:
Amateurish direction
Boring narration
Editing
Analysis
Murugadoss made "7th Sense" with Suriya a decade ago. The film has an interesting plot in which a Chinese guy with hypnotic powers begins a government-planned biological war on India, and the hero battles against him to defeat him. Despite having some nice parts, the film flopped.
The primary premise of "Spark The Life" is that a military doctor/scientist invents a means to manipulate the brain and sensory powers of an enemy state's troops. "SPARK" is the project's name. But you don't remember what "SPARK" stands for because you were probably sleeping from boredom when this concept was unveiled in the film.
Vikranth, a newcomer, wrote and directed the film in addition to playing the lead role. However, he is unable to articulate this "concept" and discloses it in the penultimate sequences. Until then, the film is presented as a standard murder mystery.
The film drags on and on with no compelling moments or entertaining episodes. The narrator merely adds to the dullness by flip flipping between Vizag and Hyderabad events, romance moments between Vikranth and Mehreen, and Vikranth and Rukhsar.
The main issue with this problem is the actor-director not knowing how to package a concept. The basics of scene construction are also poor.
Having said that, the makers have tried to present the film in a rich manner, which is evident on screen. The music is another better part.
Overall, "Spark The Life" doesn't have spark, nor lively moments. It is only dull and mostly boring.
Bottom line: Spark Is Missing