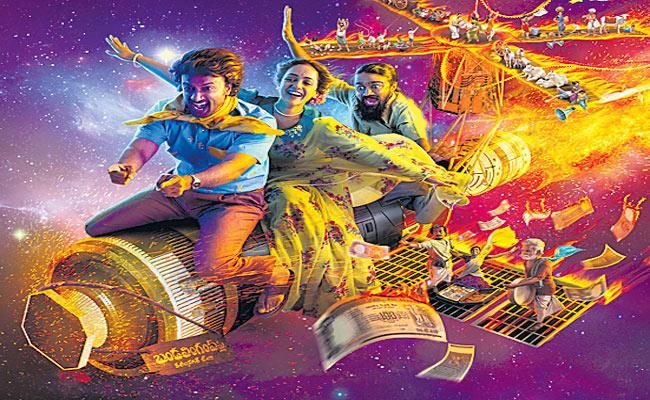 Movie: Skylab
Rating: 2/5
Banner: Byte Pictures, Nithya Menen Company
Cast: Nithya Menen, Satyadev, Rahul Ramakrishna, Tanikella Bharani, Tulasi and others
Music: Prashanth R Vihari
Cinematographer: Aditya Javvadi
Editor: Ravi Teja Girijala
Co-Producer: Nithya Menen
Producer: Prithvi Pinnamaraju
Writer-Director: Vishvak Khanderao
Release Date: December 4, 2021
The trailer of 'Skylab' piqued our interest. It created a positive impact as the concept looked exciting. Nithya Menen turning producer for this film is another reason that generated buzz.
Let's find out its merits and demerits.
Story:
Set in a village in Banda Lingampally in Karimnagar district in 1979, the story talks about incidents before the fall of American space station 'Skylab'.
The village has different exciting characters, but it focuses on three persons - a wannabe writer and journalist Gauri (Nithya Menen), a doctor named Anand (Satya Dev), and a youngster Ramarao (Rahul Ramakrishna) who is struggling to clear the debts of their family.
As the news spread that the 'Skylab' may fall right on their village, the inhabitants do all sorts of things.
Artistes' Performances:
Nithya Menen as a daughter of a rich landlord and a wannabe writer holds the moments whenever she appears on the screen. Though her role is clichéd, her screen presence does the magic.
Satyadev has nothing much to do in the whole scheme of things. He plays a greedy doctor. Rahul Ramakrishna has provided some comic relief.
Tanikella Bharani and Tulasi are okay.
Technical Excellence:
Prashanth Vihari's music is in sync with the theme. The cinematography and the production design are neat. The editor must have slept on the table itself. The film needs a lot (yes, a lot) of trimming. Bad judgment of editing!
Highlights:
Nothing
Drawback:
Boring first half
Dead slow narration
Lengthy drama with a wafer-thin plot
Analysis
"Skylab" is based on some real incidents. Oldtimers say that people went in panic for days when the news spread that the space station might fall anywhere in India. The premise is definitely interesting. But that alone is not enough to hold the viewer's interest.
The writer-director takes the entire first half just to establish various characters in the film besides introducing the three main leads played by Nithya Menen, Satya Dev, and Rahul Ramakrishna. Some comic dialogues have definitely worked, but devoting the entire first half to these characters and their problems has made the film a dull affair. Moreover, the pace is slower than the snail's pace.
Nithya Menen's track of budding writer is clichéd. She believes that she's a good writer and a fine journalist, but the editor thinks she has awful writing skills. To establish this point, the drama goes on for more than half-hour. The writer should have taken inspiration from Sri Lakshmi's old comedy scenes and how to write comedy in such cases. Remember the film Chantabbayi in which Sri Lakshmi played such writer's role?
The track of Satyadev who comes to this village to earn Rs 5000 to get his medical practicing license goes on and on. There are other small characters and their arcs. Amidst all this chaos, only Rahul Ramakrishna's scenes provide some laughs.
The premise has scope for narrating it hilariously. But the director has not capitalized it. The idea of his comedy doesn't reflect modern times.
All in all, despite having an interesting concept, the screenplay and tiresome runtime, and boring sequences have killed it. Watching it in theaters, this dead-slow drama make audience exhausted.
Bottom-line: Falls on the heads of audience