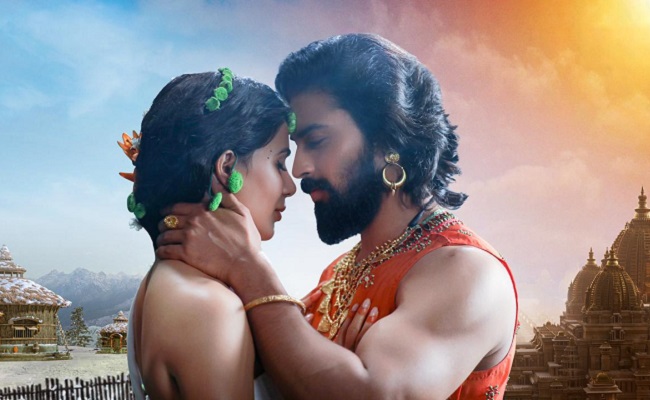 Movie: Shaakuntalam
Rating: 2/5
Banner: Gunaa TeamWorks, SVC
Cast: Samantha, Allu Arha, Sachin Khedekar, Kabir Bedi, Dr.M Mohan Babu, Prakash Raj, Madhubala, Gautami, Aditi Balan, Ananya Nagalla, Jisshu Sengupta and others
Dialogues: Sai Madhav Burra
Music: Mani Sharma
Editor: Prawin Pudi
DOP: Shekar V Joseph
Art: Ashok
Action: Venkat, King Solomon
Presenter: Dil Raju
Producer: Neelima Guna
Directed by: Gunasekhar
Release Date: April 14, 2023
"Shaakuntalam," a big-budget film starring Samantha, has been marketed as a must-see. Samantha heavily promoted the film. She claimed it is only comparable to Hollywood's Disney classics. Dil Raju, the film's producer, sounded so sure of himself that he held premiere screenings before the release. Director Gunasekhar stated that it will set a new benchmark.
Let's see if the movie is as good as they say it is.
Story:
Shakuntala (Samantha) is a beautiful woman who lives in Rishi Kanva's ashram. When King Dushyanta (Dev Mohan) sees Shakuntala on his hunting trip, he falls madly in love with her. Shakuntala reciprocates his feelings.
Shakuntala and Dushyanta secretly wed, and Dushyanta promises to return for her, giving her a royal ring as a token of his love.
One day, when Durvasa (Mohan Babu) visits the ashram, Shakuntala forgets to greet him properly, being wrapped up in her thoughts about Dushyanta. Furious at this slight, Durvasa pronounces a curse upon Shakuntala, saying that the object of her fantasies would one day forget about her.
Pregnant with Dushyanta's child, Shakuntala travels to the capital city to find out why Dushyanta has not returned for her. Unfortunately, she loses the ring on her journey.
When she arrives at Dushyanta's court, her husband neither recognizes her nor remembers her. After being humiliated, Shakuntala moves back to the woods and gives birth to a son whom she names Bharat (Allu Arha). Will King Dushyanta ever remember her?
Artistes' Performances:
Samantha looks lovely as a spinster in the beginning of the story. She gives a mature performance in the scenes in which she is humiliated in the king's court and subsequent portions.
Dev Mohan's performance as King Dushyanta is adequate. He is handsome, but he lacks the necessary skills to appear as a warrior in action sequences.
Allu Arha, Allu Arjun's daughter, is adorable and does a fabulous job as Prince Bharat.
Mohan Babu as the easily irritated Durvasa is terrific. However, other prominent actors such as Gautami, Madhoo, Sachin Khedekar, and Ananya are given only stock dialogue and scenes.
Technical Excellence:
The film is densely packed with graphics, but the visual effects are not uniformly good. While some visuals, particularly those of Kanva Maharshi's ashram, are appealing, the rest of the film is subpar to terrible. The 3D effects, in particular, are annoying.
The cinematography is adequate. Another disadvantage is the music. The songs either cause a headache or put you to sleep. The dialogue writing is stilted.
Highlights:
Samantha in certain places
Allu Arha's scenes
Drawback:
Subpar 3D effects
Fake war scenes
Boring narrative
No emotions
Mani Sharma's music
Analysis
Samantha stated during a promotional interview that "Shaakuntalam" would "Disneyfie" the audience. She meant that it would provide them with the same experience as western epic dramas like Disney's "Maleficent" did. However, the film fails to capture any of it.
Gunasekhar's idea was to tell a mythological story like "Shakuntala" (which is part of the Mahabharat as well as a separate play written by Kalidasa) to the next generation of audiences using cutting-edge technology and 3D.
Gunasekhar was unable to fully realize his vision for the historical drama "Rudhrama Devi" due to financial constraints and other factors. Therefore, everyone sympathized with him, and top actors like Samantha and producers such as Dil Raju came forward to support him in realizing the true potential of his vision. As a result, "Shaakuntalam" was born.
Despite having the best talent and resources at his disposal this time, Gunasekhar has failed miserably in making the mythological drama a compelling watch. Let's not even get started on 'riveting,' it would have been better even if it were a 'bearable' experience.
Whether you know it or not, the plot of 'Shaakuntalam' is a love story that, in today's world, lacks excitement. Mythologies, on the other hand, should be told in such a way that everyone, regardless of age, is entertained and feels connected to them.
For example, KV Reddy created 'Mayabazar' 65 years ago based on a Mahabharat subplot that has captivated audiences for generations.
Gunasekhar attempted to add depth to the plot by combining sub-stories such as "Kala Nemi" and others, but the results have been mixed. Nonetheless, some parts of the film are quite appealing. Shakuntala's ashramam world is fascinating. Samantha's birth scene and Bharat's interaction with her father, King Dushyant, are both handled well. The aesthetics are another good part. Plus, a couple of portions in the second half are better.
Overall, "Shaakuntalam" falls short on all counts, whether as a visual extravaganza or as a good mythological drama. The narration is tedious, and the 3D effects are dreadful. The 'soul' is missing in this glitzy attempt.
Bottom line: Tedious Watch