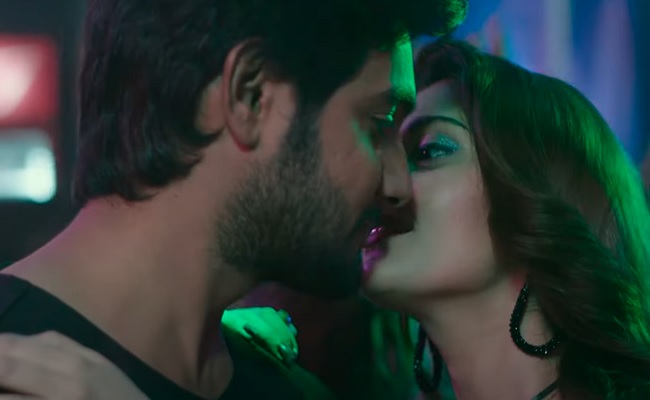 Movie: Sashi
Rating: 1.5/5
Banner: Sri Hanuman Movie Makers
Cast: Aadi Saikumar, Surabhi, Harsha, Ajay, Rajeev Kanakala, and others
Music: Arun Chiluveru
Cinematography: Amarnadh Bommireddy
Editor: Satya G
Action: Real Satish
Producer: R.P. Varma, Ramanjaneyulu, Chintalapudi Srinivas
Written and Direction: Srinivas Naidu Nadikatla
Release Date: March 19, 2021
"Sashi" made some buzz thanks to one of its viral songs. Lately, films are getting publicity with viral songs, this film is another example.
Let's find out its merits and demerits.
Story:
Ajay (Ajay) worries about his careless brother Raj Kumar (Aadi Saikumar), who doesn't work, or show interest to get settled in life. He even vows not to get married until his brother takes responsibility for the family.
Raj Kumar is an alcoholic, hangs out with Dora (JP) and their group. One day, when he spots Sashi (Surabhi) and follows her. She was his girlfriend in his college, but she doesn't recognize him.
What has happened to Sashi and why is suffering memory loss? Why is that Raj Kumar turned alcoholic?
Artistes' Performances:
Aadi Sai Kumar gives a decent performance in the first half of the film. Surabhi has a beautiful face but has limited expressions.
Ajay as his brother and Rajeev Kanakala as Surabhi's father leave their mark. Vennela Kishore and Harsha Chemudu's comedy is outdated.
Technical Excellence:
Music is its main strength. Arun Chiluveru has come up with impressive tracks. The cinematography is adequate. Dialogue writing is bad.
The screenplay is formulaic. Editing is sloppy.
Highlights:
Okey Oka Lokam song
Drawback:
Ludicrous story
Dull narration
Outdated comedy
Analysis
None of Aadi Saikumar's last six or seven movies have created a pre-release buzz. All of them were duds. Still, "Sashi" has generated interest solely on the viral songs. Lately, one viral song is enough for a movie to get a buzz.
"Okey Oka Lokam" song sung by Sid Sriram has helped the film garner attention. Sadly, the film's only positive element is the music.
The film begins on a pretty formulaic note, by introducing the hero in a shower and shows him drinking alcohol even in the bathroom. Within five minutes, we can easily guess that he has a 'flash back' story for this current behavior and it would be revealed only after the interval. Such formulaic and predictable screenplay this has.
Expectedly, in the entire first half of the film, we get to see, Aadi beating eve teasers, problems in his house, his drinking habits, and the introduction of the heroine. By the time, the director begins to reveal the main story, we lose interest in the film already.
Sashi in this film stands for the name of the heroine as well as the hero's close buddy. We get to know more about these two Sashis and a so-called twist comes post-interval but they are told in a boring manner. You look for the exit door a half-hour before the climax. The narration is that drab.
Filled with predictable and convenient situations, it tests patience. Sample this: one of the main characters in the film loses memory but turns normal as an iron rod hits her head.
Plus, the characterization of Aadi reminds us of "Arjun Reddy".
"Sashi" is strictly mediocre stuff full of déjà vu moments.
Bottom-line: A Boring Love Story
Click Here for Latest Direct-to-OTT Releases (List Updates Daily)