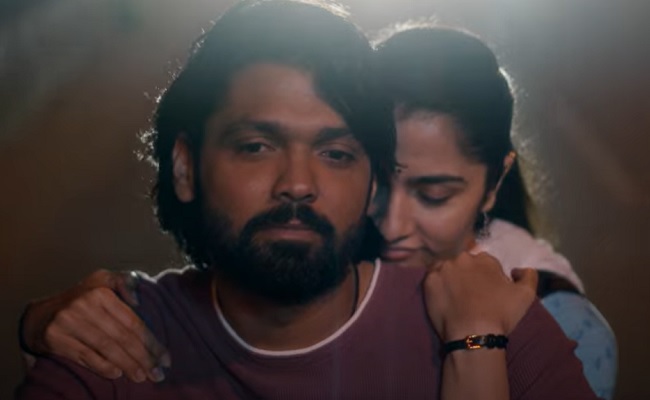 Movie: Sapta Sagaralu Dhati
Rating: 2.75/5
Banner: Paramvah Pictures, People Media Factory
Cast: Rakshit Shetty, Rukmini Vasanth, Avinash, Sharath Lohitashwa, Achyutha Kumar, Pavitra Lokesh, Ramesh Indira, Gopal Krishna Deshpande and others.
Music: Charan Raj
DOP: AdvaithaGurumurthy
Editor: Vijay Velukutty
Production Designer: UllasHydur
Producer: Rakshit Shetty
Written and Directed by: Hemanth M Rao
Release Date: Sep 22, 2023
Kannada films have recently made waves across India. Following "KGF," "Kantara," and "777 Charlie," another Kannada film titled "Sapta Sagaradaache Ello" received positive reviews and was dubbed into Telugu. The Telugu dubbed version of the film was released in theaters today.
Let's find more about it.
Story:
Set in 2010. Manu (Rakshit Shetty) the driver and Priya (Rukhmini) the student are madly in love with each other. Priya hopes they can build a lasting relationship and settle down together. Manu, a man with low financial resources, accepts his boss's offer to stay in jail for a crime he did not commit in the belief that the money will help them live a happy life.
However, things do not proceed as planned. Will Manu and Priya fight back and get their lives back on track?
Artistes' Performances:
Rakshit Shetty does a fine job with the role that requires him to show many different sides of helplessness.
Rukhmini Vasanth has a beautiful smile and very expressive eyes. She completely owns and flawlessly executes the role.
Senior actors Achyut Kumar as a wily person, Ramesh Indira as a don in jail and Pavitra Lokesh as Rukhmini's mother add the value with the convincing performances.
Technical Excellence:
The emotional turmoil the lead actors go through is captured by cinematographer Advaitha Gurumurthy. His blue frames represent the emotional side of the story.
The score, composed by Guru Charan, gives the story much more depth. The background score is fantastic. The production design is just as perfect.
Highlights:
The gripping first half
Strong conflict point
Poetic touch
The lead pair
Drawback:
Slow-paced narration
Extended jail portions
Analysis
In "Sapta Sagaralu Dhaati," a dubbed version of the Kannada film "Sapta Sagaradaache Ello," a cassette tape recorder plays a crucial role in connecting the lovers. We all know, every cassette has a Side A and a Side B. This film is Side A, which signifies that only one side of the story is presented. The second installment, known as Side B, will be released soon.
Side A introduces us to the story of Manu and Priya, who are already in love and planning to marry from the very beginning of the film. We witness Priya's initial desire to have a home for them in Bengaluru, but her heart longs for a home near the seaside. She has such a deep affection for the sea that she refers to it as her own. This poetic beginning sets the stage for the drama and immerses us in their world.
The director also establishes why and how Manu agrees to take responsibility for a crime he did not commit. Will their love endure when things don't go as planned, with the courts delaying the case for months? Will she wait for him or support him? How much suffering will they have to endure? These questions are explored in the film's second half. To convey the passage of time (almost ten years), the director extends the jail sequences beyond what is necessary, causing the film to lose some of its grip from the first half.
Furthermore, the jail sequences also appear quite routine, as many films have depicted life in prison.
Despite these minor flaws such as the slow pace and a heavy second half, "Sapta Sagaralu Dhati" is a worthwhile film due to its central idea and storytelling. Director Hemanth Rao extracts genuinely authentic performances and narrates the film's story in a realistic manner while keeping our attention. The narrative possesses a unique beauty and a melancholic tone that stirs our emotions in the end.
The film evokes memories of an old Telugu film called "Nireekshana," starring Bhanu Chander and Archana.
"Sapta Sagaralu Dhati" is not a typical love story. The first part of the story concludes in a stunning manner and teases the second part (Side B), which appears to be more of a revenge drama.
Overall, this film is for those who seek something different and well-crafted storytelling.
Bottom line: Poetic