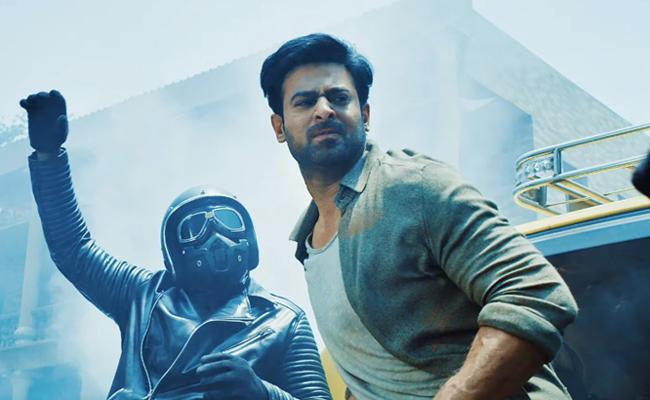 Movie: Saaho
Rating: 2/5
Banner: UV Creations
Cast: Prabhas, Shraddha Kapoor, Jackie Shroff, Neil Nitin Mukesh, Vennela Kishore, Murli Sharma, Arun Vijay, Prakash Belavadi, Evelyn Sharma, Supreeth, Lal, Chunky Pandey, Mandira Bedi, Mahesh Manjrekar, Tinu Anand
Music: Ghibran
DoP: Madhie
Production Design: Sabu Cyril
Editor: Sreekar Prasad
Producers: Vamsi and Pramod
Written and direction: Sujeeth
Release date: August 30, 2019
Touted be the costliest ever Telugu movie, "Saaho" has been raising expectations from long time. This is Prabhas's immediate film after the epic blockbuster "Baahubali 2".
Hence, entire world is eager to see how this movie would perform. Amidst sky-high expectations, "Saaho" is here.
Let's find out whether the film has lived up to all the hype and craze.
Story:
An union minister gets kidnapped by a mafia gang that run from Waaji city (fictionalized). An undercover cop Ashok Chakravarathy (Prabhas) comes into the scene. In Mumbai, some robberies happened.
Ashok Chakravarthy and crime branch Officer Amrutha Nair (Shraddha Kapoor) on their mission to find out the person behind the robberies. They zero on a guy named Armani (Neil Nithin Mukhesh).
On other hand, Roy (Jackie Shroff), the mafia don of Waaji city is assassinated. His son who has been raised in a secret place will now take his position but before that he has to bring a black box from Mumbai which was hidden in a bank.
Who really is Ashok Chakravarthy and how does he involve in all this tangle is the rest of the drama.
Artistes' Performances:
To come out from the royal warrior look of 'Baahubali' and 'Baahubali 2' and present himself as modern-day action star is not that easy. Prabhas has chosen a role that suits well to his image and body language. But sadly, he is not in his elements here, he seems out of place in most sequences though he has excelled in action episodes.
Shraddha Kapoor is seen in a role that has enough length and importance. Hers is not glamour doll character, story gets changed with her role and she has done justice to it. Neil Nithin Mukesh is good.
Vennela Kishore's comedy doesn't work at all. The film has scores of actors as antagonists but all of them have added more confusion to the story.
Only Mandira Bedi and Chunky Pandey get better roles. Jacqueline's item song is catchy and enticing.
Technical Excellence:
Money can be seen in every frame. The film absolutely boasts the best production and technical values. Since this is a lavish action film, more emphasis is given to action choreography, cinematography and production design, which all are of international standards.
The two action episodes compassed by Kenny Bates will definitely stand out. Actions stunts are never seen like before on an Indian screen. But the marathon action episodes are boring. Cinematography by Madhi is excellent.
Music is catchy and songs are shot with lavish money expenditure but they are very short duration. Dialogues are quite ordinary. Sabu Cyril's art work is top class
Highlights:
Action Stunts
Production values
Drawback:
Bad direction
Clichéd screenplay
Copied episodes from foreign films
Loud and garish
Lengthy runtime
No emotional quotient
Analysis
From the very first sequence, 'Saaho' establishes the fact that movie is a mega-budgeted action drama, with focus on lavish sets, high production values and well-known Bollywood stars featuring in small roles.
It boasts the money spent on making this movie right from the beginning. To give international quality visuals and getting slickness, one needs huge money but the focus should always be on the 'story and screenplay', not on your ability to splurge.
Soon after establishing the backstory of Jackie Shroff as a mafia don of Waaji city, the film shifts to Mumbai and introduces both Prabhas and Shraddha Kapoor, the lead pair as police officers and even then the scenes are created much like in the fashion of 'Dhoom' series.
A clever scene precedes the introduction of Prabhas giving us the true glimpse of director Sujeeth's talent that we had seen in his debut film "Run Raja Run".
But once Prabhas is introduced in an action fight, the film drifts into routine mode – a fight, a romantic scene, another fight, a song, another lengthy action episode, the loop continues till the interval bang.
At the interval bang, the twist is revealed which anyone can easily guess. The storyline which is an exact copy of Pawan Kalyan's "Agnyaathavaasi" aka "Largo Winch" goes on a predictable manner till the end with the messy screenplay.
In "Agnyaathavaasi", the main focus was on the corporate war and choosing the heir apparent, here the backdrop is changed to mafia city and the heir apparent angle is unchanged.
Post-interval there is no story to be told, so the director has focused on a 22-minute action episode which was shot in Dubai/Abu Dhabi.
After 5 minutes gap, another lengthy action scene comes in and another 10-minute length action stunt follows. This clearly indicates, the director has messed it up with his tacky direction and sloppy screenplay.
However, the action stunts composed by Kenny Bates are like never-before-seen on the Indian screen. This episode is quite riveting. The film again ends like "Agnyaathavaasi".
One wonders how Prabhas agreed to go ahead with this film after seeing the fate of Pawan Kalyan's "Agnyaathavaasi".
The songs are definitely catchy and lavishly shot but they come at wrong places and are very short in duration to relish them. There are also many sequences that defy the logic.
Prabhas's look and appearance also lacks consistency. In some sequences he is okay but in most scenes, he looks tired.
Though one must appreciate the producers to spend such lavish money to give out-of-the-ordinary feel for action sequences, they should have taken care of duration, screenplay and a better direction.
All in all, the film is a huge let-down.
Bottom-line: Not Even for Die-Hard Fans
(Venkat Arikatla can be reached at venkat@greatandhra.com)
Click Here for Latest Direct-to-OTT Releases (List Updates Daily)