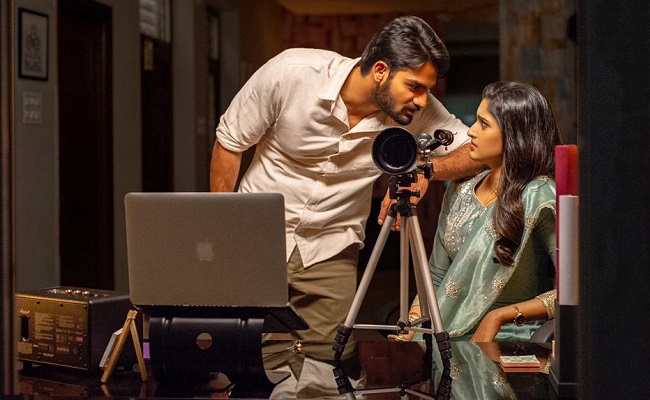 Movie: Raja Vikramarka
Rating: 2/5
Banner: Sri Chitra Movie Makers
Cast: Kartikeya Gummakonda, Tanya Ravichandran, Tanikella Bharani, Sudhakar Komakula, Saikumar, Pasupathy, and others
Music: Prashanth R Vihari
DoP: PC Mouli
Editor: Jesvin Prabu
Producer: Rama Reddy
Story and direction: Sri Saripalli
Release Date: Nov 12, 2021
Kartikeya Gummakonda's latest film "Raja Vikramarka" has succeeded in gaining our attention with the teaser itself. It promised to be a good spy thriller. The trailer also piqued our interest.
Let's see whether the film has lived up to the expectations.
Story:
Vikramarka (Kartikeya) is an NIA agent. He is on suspension for a month for his unprofessional act, but he is assigned to protect Home Minister Chakravarthy (Sai Kumar) who has a threat from Gurumurthy (Pasupathy), a former Naxalite leader.
He goes to the Home Minister's house as an assistant to a dance teacher who teaches dance to Kaanthi (Tanya Ravichandran), the minister's daughter.
In no time, Vikrmarka and Kanthi fall in love. Expectedly, Kaanthi gets kidnapped. How does Vikramarka bring her back safely?
Artistes' Performances:
Kartikeya Gummakonda is one of the fittest actors around. He has a perfect body, which suits for action roles. As an NIA agent, he is utterly convincing.
Newcomer Tanya has attractive looks and also performed within the requirements.
Tanikella Bharani and Sai Kumar are okay in their roles. Pasupathy gets a raw deal in the film. Sudhakar Komakula's role is poorly etched.
Technical Excellence:
The cinematographer's work stands out among the technicians. The aerial shots of Hyderabad roads have provided the film with a rich look. But the rest of the technicians, especially the writers, have failed miserably. Not a single song gets registered.
Highlights:
Kartikeya
Cinematography
Drawback:
Illogical plot
Silly comedy scenes
Tacky direction
Formulaic writing
Analysis
During promotional interviews, Kartikeya said that he was impressed by the new director Sri Saripally's storyline when he narrated it three years ago, but waited for the right time to take it up. He felt this was the time. Thus "Raja Vikramarka" happened. It is not the first time that the young actor has poor judgment skills about scripts. The latest outing confirms it further.
Are we in the 1990s or 2020s to believe that anyone can go into a state's home minister house? The hero is introduced as an NIA agent in the first scene. But he goes into the home minister's house as an assistant to an LIC agent cum dance teacher. He soon asks the minister's daughter for a date, and they roam the city, but none of the security members do the background check for this new dance assistant. When a home minister is in danger, why should the NIA team try to keep it a secret, why can't it inform or alert the home minister or local police?
The very beginning scenes are illogical. When the focus is shifted to the kidnap angle, the logic completely goes for a toss.
When the film relies on an unconvincing line, it is hard to get hooked to the screen. "Raja Vikrarmka" suffers from the implausibility factor.
When NIA officers are negotiating with kidnappers for ransom amount, an LIC agent played by Harsha Vardhan meddles in and asks kidnappers to lower the amount. Is this a comedy film? Also, a lot of hype is made about finding one Basheer in one scene, but the scene also turns out to be a silly joke.
Even before the identity of the main villain is revealed, the audience can easily guess in the first act who the rat is. Such formulaic and non-serious approaches have marred the viewing experience.
In a nutshell, this is a story that should have been rejected on the first hearing. Kartikeya should either hire better script consultants. "Raja Vikramarka" fails due to poor writing and tacky direction.
Bottom-line: Vikramoorkha
Click Here for Latest Direct-to-OTT Releases (List Updates Daily)