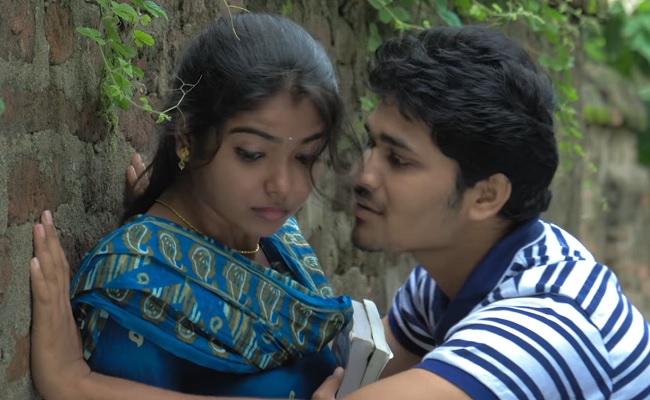 Movie: Raja Vaaru Rani Gaaru
Rating: 2.5/5
Banner: Media 9 and SL Entertainments
Cast: Kiran Abbavaram, Rahasya Gorak, Rajkumar Kasireddy, Yazurved Gurram, Snehamadhuri Sharma, Divya Narni and others
Music: Jay Krish
Cinematography: Vidyasagar Chinta, Amardeep Guttula
Editing: Viplav Nyshadam
Producers: Manovikas D and Media9 Manoj
Written and directed by: Ravi Kiran Kola
Release date: November 29, 2019
Reputed production house Suresh Productions presenting a small film has generated curiosity. Added to that the trailer was pleasant.
Now that the film hit the screens, let's analyze.
Story:
Raja (Kiran Abbavaram) loves Rani (Rahasya Gorak). A one-way love. She may also like him but she never reveals her feelings and he doesn't have guts to propose her.
When she leaves the village for higher studies, he feels distraught. Three years later, she returns to their village.
What makes her return? And will he get the courage to tell his feelings towards her at least now?
Artistes' Performances:
The newcomers all have done a pretty good job in their debut attempt. Kiran as the lead actor gets his act right, while Rahasya Gorak is okay. The actors who have played hero's friends have generated good laughs.
Technical Excellence:
Though it is made on a low budget, the visuals don't lack richness. The camerawork is its chief asset. The visual beauty coupled with music has given the movie quality outlook. Dialogues are simple.
Highlights:
Simplicity
Beautiful Visuals
Music
Drawback:
Thin story
Lack of chemistry
Slow narration
Analysis
As the water flow in narrow canals of Godavari delta, "Raja Vaaru Rani Gaar" begins in a calm and slothful manner. There is no tension, no hurry burry in the lives of the villagers of Ramapuram.
The students take bikes to go to college or drive through the fields, girls play old-style games and gossip, boys think only about girls. Life is simple in the village. The film's drive is also the same - unpretentious and unhurried.
The protagonist is also very a simple guy who thinks that she would 'feel' his love from his body-language or his glances.
Such a pure and old-school of love and romance is depicted in this movie with a dose of humor, music, and visuals.
The entire first half runs without any hiccups. Since nothing much happens in the story and there is no major twists or big conflict for engaging us the second half falls flat.
The fun banter dries out in the initial portions. The post-interval scenario is like watching the first half again sans comedy. It movies at a snail pace without a big conflict point.
And also it is a big surprise that the hero doesn't get a simple logic to ask anybody of the heroine's family or friends about the village name of her grandparents. Instead, he silently waits for her for three years.
Logics aside, the plotline as thin as 'poothareku' doesn't have much to offer in the second half. Luckily, the climax ends beautifully.
In a nutshell, 'Raja Vaaru Rani Gaaru' is a kind of romantic drama that we have seen in the late '90s and early 2000s. Old-fashioned movie with a similar story arc of Pawan Kalyan's 'Tholi Prema' with lush visuals.
Bottom-line: Old Fashioned Romance!
Click Here for Latest Direct-to-OTT Releases (List Updates Daily)