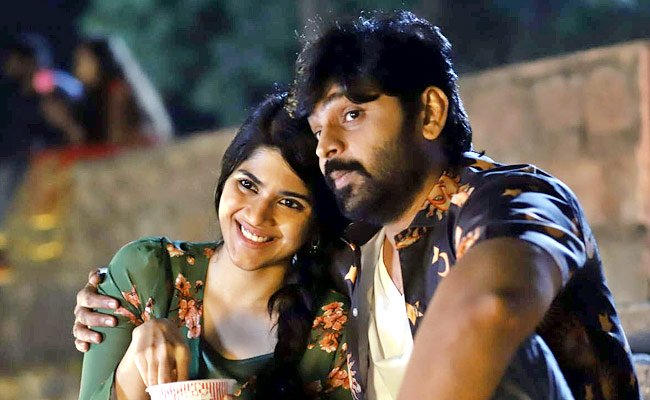 Movie: Raja Raja Chora
Rating: 3/5
Banner: People Media Factory & Abhishek Agarwal Arts
Cast: Sree Vishnu, Megha Akash, Sunainaa, Ravi Babu, Tanikella Bharani, and others
Cinematography: Veda Raman Shankaran
Music: Vivek Sagar
Editor: Viplav Nyshadam
Producers: TG Vishwa Prasad, Abhishek Agarwal
Written and direction: Hasith Goli
Release Date: August 19, 2021
With the funny trailer and the last-minute aggressive promotions, "Raja Raja Chora" has garnered attention. The film is now running in the theaters.
Let's find out its merits and demerits.
Story:
Bhaskar (Sree Vishnu) works in a Xerox shop but fakes as a software professional. Believing that he is working in an MNC, his girlfriend Sanjana (Megha Akash) dreams of settling with him and buy a flat of their own in Hyderabad. Bhaskar also hides his marriage with Vidya (Sunainaa) from Sanjana.
When his wife demands more money for household expenses and education fees, he begins to steal money. Eventually, his girlfriend comes to know about his marriage to Vidya.
On other hand, to come out from the trouble he landed in, he agrees to 'chori' (steal money) and share the amount with a police officer (Allari Ravi Babu). His life spirals into a mess further.
Artistes' Performances:
Sree Vishnu has shown two variations required for his role – a real and fake facade. As a person who fakes everything for want of a better life, he has provided some good humor. There is an emotional element to his characterization as well, and he pulls it off quietly.
Sunainaa is a surprise package. As a strong-minded wife, she gets the meaty character, and she leaves a strong impression.
Megha Akash has played her role neatly. Ravi Babu's character is quirky.
Technical Excellence:
Vivek Sagar's background score is effective, and the songs are trendy. The cinematography is adequate. The dialogues are neat.
Highlights:
Pre-Interval scenes
Comedy portions
Sree Vishnu and Sunaina
Drawback:
Dragged second half
Overdramatic at places
Analysis
The story of "Raja Raja Chora" is not a run-of-the-mill but different from regular crime comedies. Wrapped as a comedy, it is a moral fable and a story of a wife and husband realizing their true bond.
The protagonist hiding his first marriage and romancing another girl is a scene we have watched in many films. The same aspect has a different twist here. In fact, the story seems unusual for this reason. The characterizations of Sree Vishnu and Megha Akash and twists to their roles have brought in freshness.
As the film leads to the interval, the fake lives of Sree Vishnu and Megha Akash begin to unravel providing hilarious moments in the first half. This portion is handled superbly by the new director.
Not just their acts are exposed, we also get to see another subplot involving Ravi Babu and his affair with the wife of his close friend. Two episodes involving Ravi Babu, Sree Vishnu, and Megha Akash are quite funny. The interval bang raises our curiosity and expectations of the film. The comedy punches are good.
However, the second half takes a different turn and becomes melodramatic at places. As the title says, the hero lands in the situation to become a full-time thief due to a reason. But these scenes are handled unconvincingly.
The supposed gap between Sunaina and Sree Vishnu doesn't have solid reasoning. And Sree Vishnu developing 'love' towards his wife in the second half looks rushed but interesting. The emotional elements require better handling.
The attempt to interlink Tanikella's Pravachanalu to the main story has made the film become denser and the runtime becomes fatty. It drags on.
The film offers a lot of fun at the interval stage, but it ends on a 'heavy' note. A crisp second-half and better handling would have enhanced the overall impact.
In a nutshell, "Raja Raja Chora" has some hilarious scenes, and flashes of smart writing. Though the heavy second half and the message oriented sequences dilute the expected comedy impact, it proves to be a convincing ending with poetic justice. This is a story different from the regular trend and that makes it worth watching.
Bottom-line: Decent Watch
Click Here for Latest Direct-to-OTT Releases (List Updates Daily)