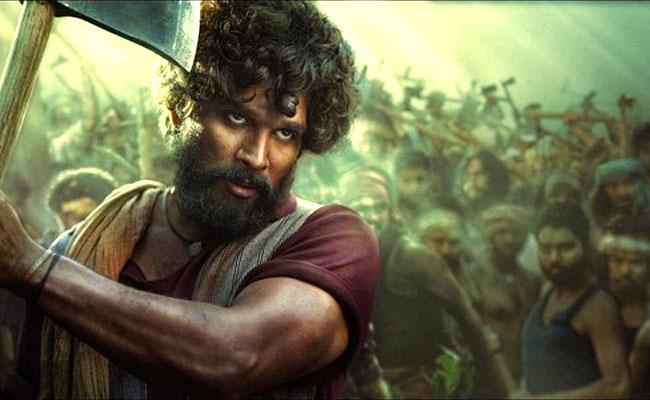 Movie: Pushpa
Rating: 2.5/5
Banner: Mythri Movie Makers
Cast: Allu Arjun, Rashmika Mandanna, Fahadh Faasil, Sunil, Anasuya, Rao Ramesh, Dhanunjay, Ajay, Ajay Ghosh and others
Music: Devi Sri Prasad
Cinematography: Miroslaw Kuba Brozek
Editor: Karthika Srinivas, Ruben
Art: Ramakrishna-Monika
Producer: Naveen Yerneni, Y Ravi Shankar
Written and directed by: Sukumar
Release Date: Dec 17, 2021
Allu Arjun and director Sukumar's "Pushpa" has been creating waves ever since the first look of the film was released. The pan-Indian film is out in theaters today amidst high expectations and frenzy.
Let's analyze.
Story:
Pushpa Raj (Pushpa) has no surname. He lives in the Seshachalam forest in Andhra Pradesh. He begins as a coolie of Red sandalwood smuggling and wins the confidence of the syndicate headed by the Kondareddy brothers (Ajay Ghosh and others).
The main boss of the syndicate is Mangalam Seenu (Sunil), who is making crores of rupees by transporting the wood to Chennai and giving peanuts to Kondareddy and other syndicate members. Pushpa throws a challenge to Mangalam Seenu and becomes a new don.
When everyone thinks that he is the new 'boss'' of the smuggling business, police officer Shekhawat (Fahadh Faasil) enters the scene.
Artistes' Performances:
Allu Arjun has given an exceptional performance as Pushpa Raj. His transformation of the physique is perfect. His dialogue delivery with Chittoor dialect is spot on. From the beginning to end, the film is his show all the way. The performance will be one of the best in his career.
Among other actors (there are plenty of characters), none leave any impression.
Rashmika Mandanna as the village belle gets her accent right and is sincere in her effort. But her role is predictable to the core. The romantic scenes between them have generated some laughs, but they are too clichéd.
Sunil as the villain gets a terrific makeover, but his role is also not at all effective. Anasuya's presence doesn't make any difference. The guy who played Keshava is okay. So are Ajay Ghosh and Kannada star Dhanunjay. Samantha sizzles in the item song but the song is short.
Fahadh Faasil, one of the best star actors working today in India, makes a late entry into the picture. He makes his presence felt.
Technical Excellence:
Cinematography and production values stand out in this film. Miroslaw Kuba Brozek's camerawork is excellent. He captured the forest sequences so well. He also shot some action episodes aesthetically. The film has rich production values throughout.
Devi Sri Prasad has given viral songs, but he disappoints us with background score. There seems to be some problem with audio quality. Dialogues in Chittoor slang are good.
Highlights:
Allu Arjun's terrific performance
Drawback:
Sluggish narration
Lack of strong villain(s)
Background score
Climax
Analysis
After delivering a blockbuster like 'Rangasthalam', director Sukumar has once again selected a backdrop, which was not explored much on screen. The smuggling of Red sandalwood is a major issue in Chittoor. But not many films were made on this backdrop in Telugu. Sukumar has focused on this backdrop in "Pushpa" by creating the protagonist as a coolie in this smuggling business.
He has chosen a backdrop of Seshachalam forest to tell the story of a coolie's rise in the smuggling business and created a world with peculiar characters, but the graph is pretty familiar.
If we observe the screenplay, director Sukumar is not in the best form here. In the beginning, we see the fight between Pushpa and a police officer. The task police officer expectedly fails and leaves the place. Then, we see a lot of build-up for Sunil and Ajay Ghosh's characters. But they turn out to be weak villains. All the rivals for Pushpa – a task police officer, Sunil, Ajay Ghosh, and Dhananjay, appear to fill the drama till he comes face to face with his nemesis IPS officer Shekhawat (Fahadh Faasil).
Shekhawat comes into the picture 20 minutes before the climax. So, the entire film looks like preparing the ground for the second part. Perhaps, the decision to split the story into two parts and extend the movie to nearly 3-hour long is not a wise choice.
The pre-interval sequence of the hero's smartness in the smuggling business is one of the main highlights. Similarly, we see a long episode before the 'Hey Bidda' song, which is riveting. Fahadh's humiliating Allu Arjun is also a mark of Sukumar's direction.
Despite these moments, the film doesn't engage much in the second half. The songs by Devi Sri Prasad are huge hits. But they lack the same impact on screen. The much-hyped item song also comes in the first half and quickly goes out.
All in all, "Pushpa" belongs entirely to Allu Arjun and his commendable performance. Director Sukumar has shown his mark at many places, but he has not woven it in a watertight manner, making it a pretty predictable rise of a don's story.
Bottom-line: Needed More Fire