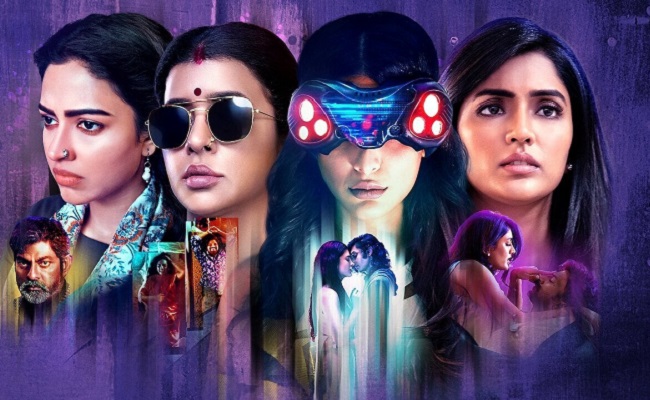 Web Film: Pitta Kathalu
Banner: RSVP
Cast: Amala Paul, Ashwin Kakumanu, Eesha Rebba, Jagapathi Babu, Lakshmi Manchu, Saanve Megghana, Sanjith Hegde, Shruti Haasan, Naveen Kumar, Satya Dev, Srinivas Avasarala, and Ashima Narwal
Directed by: Tharun Bhascker, B.V Nandini Reddy, Nag Ashwin, and Sankalp Reddy
Release Date: Feb 19, 2021
Streaming on: Netflix
Netflix's maiden Telugu production "Pitta Kathalu" is streaming now. The maiden series features four short stories titled "Raamula", "Meera", "xLife" and "Pinky".
Four different women, four different stories.
Raamula
The series begins with the story named "Raamula" directed by Tharun Bhasker. Set in rural Telangana, Raamula (Saanve Meghana) is in love with Ram Chander (Naveen), an ex-MLA's son. Ram Chander doesn't feel the difference between love and lust.
Raamula and Ram Chander's love story and their fate are drastically changed by Swaroopa (Lakshmi Manchu), a woman political leader who is angered by not getting the same treatment and respect as her fellow male politicians do.
This is a story that is so natural, and realistic. It is simple and straightforward, yet at the same time, it works big time. It has humor, and an unexpected twist as well.
Tharun Bhaskar's deft direction and writing, natural performances from Lakshmi Manchu, Naveen, and newcomer Megghana are huge assets.
Meera
Of the four stories, "Meera" can be termed as the 'hottest'. The 'boldness' that we expect from this kind of anthology series has in abundance.
Meera (Amala Paul) is a writer and is pregnant with her third child. Her much older husband suspects that she must be having an affair with Abbas, their common friend.
Amala Paul has done some love-making scenes. She also looks beautiful. Jagapathi Babu as an obsessed man is excellent. What a good performer he is! He is quite natural. But he has used more expletives than anyone else in this series.
Interestingly, director Nandini Reddy surprises with her treatment and direction. This is a bold attempt from her. "Meera" holds interest.
xLife
The trickiest story comes in the third place. Directed by Nag Ashwin of 'Mahanati' fame, 'xLife' is set in the near future.
A tech company owner Vik (Sanjith Hegde) kills love in the world and believes people are nothing but data points. He controls human beings. He doesn't believe in love but strangely he falls in love with Divya (Shruti Haasan) who works in the kitchen.
x-life talks about big ideas like tech companies controlling us, the difference between the fake world and the real world. It is an ambitious idea, but it leaves us with mixed feelings.
Sanjith Hegde suits well for the role. Shruti Haasan is okay. There are some passionate kiss scenes in this episode as well.
Pinky
The final story is more of a relationship drama - the past love, and the present life. It deals with two couples Priyanka (Eesha Rebba) and her husband (Avasarala), Vivek (Satya Dev), and his wife (Ashima). How their lives are interconnected is the story and it ends with an abrupt climax.
Directed by Sankalp Reddy of 'Ghazi' fame, this story doesn't excite us much.
Final Take
'Pitta Kathalu' is well-made series, some stories work well, and some don't. But the ideas are good, the anthology is a nice attempt. It gives a mixed feeling but worth a watch.
Click Here for Latest Direct-to-OTT Releases (List Updates Daily)