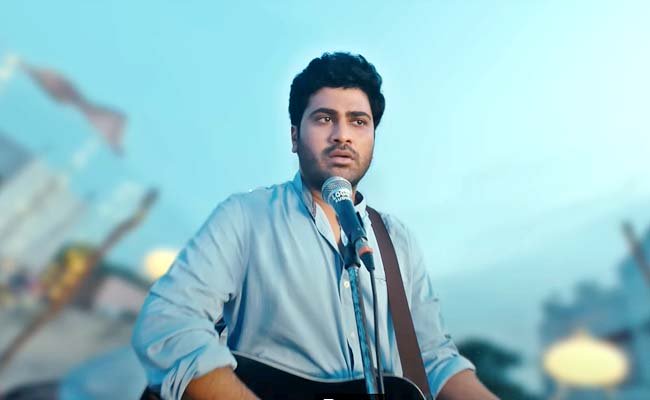 Movie: Oke Oka Jeevitham
Rating: 2.75/5
Banner: Dream Warrior Pictures
Cast: Sharwanand, Ritu Varma, Amala Akkineni, Vennela Kishore, Priyadarshi, Nasser, and others
Music: Jakes Bejoy
DOP: Sujith Sarang
Editor: Sreejith Sarang
Art: N Satish Kumar
Producers: SR Prabhu and SR Prakash Babu
Written and Directed by: Shree Karthick
Release Date: Sep 9, 2022
Despite delivering many flops, Sharwanand has popularity. His latest film "Oke Oka Jeevitham" created a buzz with its trailer. He sounded confident about this film.
Let's find out its merits and demerits.
Story:
Adhi (Sharwanand) and his two friends (Vennela Kishore and Priyadarshi) agree to the experimentation of time travel through a machine, made by a scientist (Nasser).
Adhi wants to travel back to 1998. His mother was killed in a road accident on 28th March 1998. His idea is to go back in time and stop her mother from driving car on that day.
Will his plan work?
Artistes' Performances:
An easy role for Sharwanand, and he nails it. As a son who can't forget his mother, his performance seems real and natural.
After a long gap, Amala returns to the silver screen. She is perfect in the role. She brings gravitas to the emotional theme.
Priyadarshi and Vennela Kishore provide much-needed comic relief. Nasser as a scientist and Ritu Varma as Sharwanand's girlfriend get their space.
Technical Excellence:
Songs and background music are gelled with the theme. But there is not a single catchy song. Other technicians have put in decent work. The VFX work should have been better.
Highlights:
The story
Mother-son sentiment
The second half
Drawback:
The initial portions
Slow narration
Music
Analysis
At a time filmmakers are dishing out films with formulaic storylines, "Oke Oka Jeevitham" offers something new. The genre of time travel is less explored in Telugu cinema.
Interestingly, new director Shree Karthick has added a new twist to the time-travel concept and brings mother-son sentiment drama to it. Thus, the film is quite different from the rest of the pack.
The film begins with the hero's relationship with his father, his love story with his girlfriend, and his two friends.
The beginning portions don't entice much. We begin to feel restless. But the film flies to a different level after the arrival of the time-travel machine.
Once the three friends travel back to 1998, the story provides laughs and generates interest. The scenes of Vennela Kishore's interaction with the kid version of himself bring laughs.
The interval bang gives a new twist. The twist to the story adds novelty further. The second part of the film has some meaty moments and a strong emotional core but the flow is not smooth in the later portion.
In the penultimate portion, the sequence between Sharwanand and Amala Akkineni is another highlight. The three friends have proper character arcs.
On the downside, the three kids and their struggles in the current era make less impact. The film lacks a consistent pace.
In a film where the protagonist is musician, the film doesn't have a catchy song. Better songs would have lifted the film to another level. All the songs just serve purpose, don't haunt us.
"Oke Oka Jeevitham" is sensibly made science-fiction with dollops of sentiment. It is not a regular commercial film. Those who appreciate novelty and emotional dramas will like it. Slow pace notwithstanding, it makes a decent watch. Keep your expectations under check, though.
Bottom line: Neat Attempt