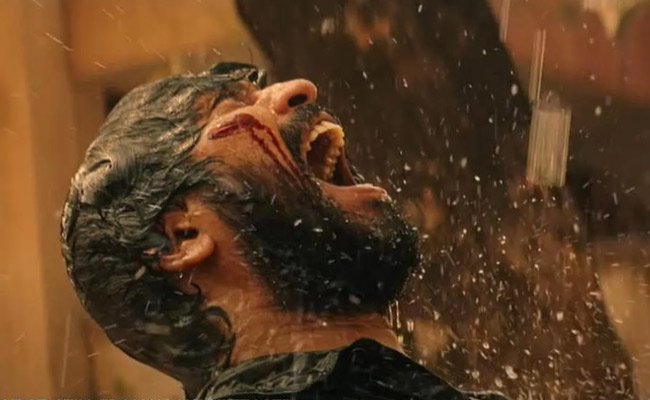 Movie: Naandhi
Rating: 2.5/5
Banner: SVZ Entertainment
Cast: Allari Naresh, Varalaxmi Sarathkumar, Priyadarshi, Harish Uthaman, Praveen, Navami, Srikanth Aiyyengar, Devi Prasad, and others
Music: Sri Charan Pakala
Dialogues: Abburi Ravi
Cinematography: Sid
Editor: Chota K Prasad
Action: Venkat
Art: Brahma Kadali
Producer: Satish Vegesna
Written and Direction: Vijay Kanakamedala
Release Date: Feb 19, 2021
Seeking a new image, and coming out of his comfort zone of playing comedy characters, Allari Naresh has done a serious-themed film, Naandhi.
The film has generated enough buzz with its trailers. Naresh in his interviews said he has worked hard for this film.
Let's find out whether his efforts have paid off or not.
Story:
Surya Prakash (Allari Naresh) is a middle-class youngster. He gets a job in a software company, his wedding is fixed with a girl Meenakshi (Navami) he likes.
On the same day, he booked a flat, and driving home with his fiance, police arrest him in a murder case. ACP Kishore (Harish Uthaman) implicates him in the murder of a social activist Rajagopal.
Surya Prakash pleads he is innocent but the case goes on for years and he serves prison as an undertrial for nearly five years.
Five years later, Aadya Mullapudi (Varalakshmi Sarath Kumar) takes up his case to grant him bail. Will she prove his innocence? And why does Kishore implicate him?
Artistes' Performances:
Allari Naresh has given a superlative performance. It is an intense portrayal. After playing comedy roles for many years, he showcased the other side of his acting in "Maharshi". "Naandhi" is a new beginning for Naresh.
Varalakshmi Sarath Kumar as the lawyer is also convincing. She steals the show in the second half. This is another meaty role for her after 'Krack'.
Harish Uthaman as an evil cop is apt. Praveen as Naresh's friend and Priyadarshi as a Youtuber have given their best. Vinay Varma as the politician is okay.
Technical Excellence:
The cameraman has captured the jail sequences and courtroom scenes well. The background score and music should have been better. It sounded pale and out dated. The editing needs crispness.
Highlights:
Allari Naresh's performance
Concept
Drawback:
Court proceedings
Uneven pace
Some scenes defy the logic
Analysis
"Naandhi" begins the story straight to the point. The message it conveys is loud and clear: scores of under trials are languishing in prisons for years without conclusive judgments.
It also stresses that how innocent people are dragged into cases due to the nexus of some corrupt police officers and bad politicians.
"Naandhi" is a part legal drama, part police procedural. New director Vijay Kanakamedala has come up with an interesting legal point – section 211 in the Indian penal code that allows the law take to action on the police officers or institutions that frame false charges of offense.
The director has narrated honestly but with necessary grip. This kind of films should run with nail biting tension. But that didn't happen due to the convenient cinematic liberties and planted scenes.
The first half of the movie focuses on the prison sequences and shows Naresh being the victim of the brutal police force. The second half is about his victorious side, his fight against the system with the help of a lawyer played by Varalakshmi Sarath Kumar.
There is no issue with these parts. The problem is with the court proceedings. Many scenes are far from reality and logic. While we can appreciate their sincere efforts, it should also be pointed out that the court sequences are too simplistic and also convenient. The film falters here.
The pace is not exactly even, there are many times the film loses its grip. The new director has packaged the serious theme as an accessible watch to the common audiences. At times, it turns documentary as well. Background score would have lifted the mood to many times.
These kind of films go well on OTT platforms. It has to be seen how this can perform in theaters.
Bottom-line: Honest content but no narrative grip
Click Here for Latest Direct-to-OTT Releases (List Updates Daily)