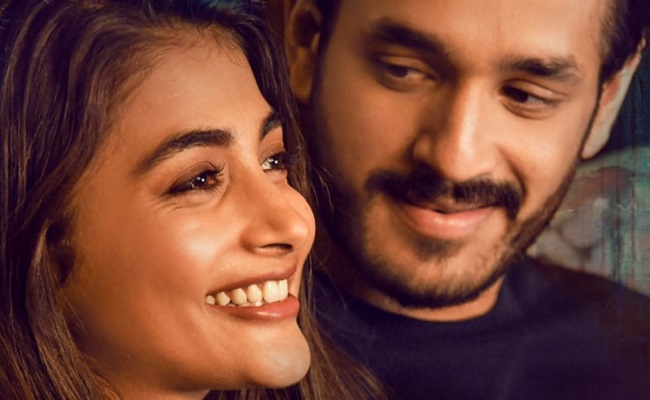 Movie: Most Eligible Bachelor
Rating: 2.5/5
Banner: GA2 Pictures
Cast: Akhil Akkineni, Pooja Hegde, Vennela Kishore, Murali Sharma, Aamani, JP, Esha Rebba, Vennela Kishore and others
Music: Gopi Sundar
Cinematography: Pradeesh M Varma
Editor: Marthand K Venkatesh
Art: Avinash Kolla
Producers: Bunny Vas, Vasu Varma
Director: Bommarillu Bhaskar
Release Date: October 15, 2021
The combination of Akhil Akkineni and the Tollywood queen Pooja Hegde has evoked interest. Besides this combination, the songs have made "Most Eligible Bachelor" most eagerly awaited. The film hit the theaters today.
Let's find out its merits and demerits.
Story:
Harsha (Akhil Akkineni), a well-settled working professional in the USA, comes to India seeking a marriage alliance. Strangely, he fixes his wedding date even before a match has been fixed.
Harsha needs to finalize one girl among the 20 'Pelli Choopulu' his family arranges for him in 20 days.
Vibha (Pooja Hegde), a female stand-up comic personality in Hyderabad, is one among the alliances, but his family rejects her because 'jatakalu' have not matched.
Harsha accidentally meets Vibha and likes her attitude, her philosophy about marriage, and life in general.
As expected Vibha and Harsha part ways due to one incident, and he heads to the USA again. The confused desi lands again in India to woo back Vibha.
Will Vibha fall for him again?
Artistes' Performances:
Akhil Akkineni plays a confused youngster's role with ease. He fits into the character.
Pooja Hegde's stand-up comic act doesn't evoke many laughs, but she makes up for it up with her beautiful presence.
Other than these two lead actors, none have much to talk about.
Technical Excellence:
More than anyone else in the cast and crew of this movie, music director Gopi Sundar seems to have believed in this script. He has given three superb songs, and "Leharaayi" is the best among them. Gopi Sundar's songs have worked out on the screen as well.
Cinematography, dialogues, and production design are okay. Editing is patchy.
Highlights:
Gopi Sundar's songs
Pooja Hegde
Some romantic moments
Drawback:
Comedy track
Directionless sequences
Illogical situations
Inconsistency in the second half
Analysis
Bommarillu Bhaskar begins the film with Akhil narrating his story to a couple, played by real-life couple Rahul Ravindran and Chinmayi. Typically, Akhil narrates his story in flashback mode. It is a recreation of 'Bommarillu' and 'Orange', where in both the films, strangers listen to the hero's love story. Like in 'Orange', Bhaskar's colossal box-office dud, the protagonist 'Most Eligible Bachelor' is a confused person, one who doesn't know what he really wants.
But "Most Eligible Bachelor" begins with a series of Pelli Choopulu sequences like in the recent "Shaadi Mubarak" movie. The entire first half of this film is a straight copy of "Shaadi Mubarak". But the "pelli choopulu" scenes provide some good fun. The humor is generated from the embarrassing situation the hero lands in. Although it is absurd to think that the hero's parents and their extended family would fix a wedding date and search for an alliance, the scenes provide some entertainment.
The director has incorporated many illogical scenes. Example: To make the heroine understand that the hero asked silly questions to girls in many Pelli Choopulu he attended are the ones she said to him before, the director takes the drama to a courtroom. Such an absurd scene is created all for entertainment.
The second half has some moments, but it again turns preachy. Like in "Bommarillu", the hero takes a class to all his family members gathered at the wedding ceremony about the true meaning of romance. "Romance is not sex, it is the expression of love," he asserts.
Bommarillu Bhaskar seems to be confused about his own story. He begins the film differently and ends it by telling another thing. The film gives a feel of khichdi, while some individual ingredients (like songs and a couple of sequences) are good, the whole dish doesn't taste yummy.
In a scene Akhil narrates a frog joke to Pooja. If anybody understands that joke completely, then his IQ level can be on par with that or Einstein. If anyone among the audience can laugh to the stand up comedy jokes of Pooja then he can be given the 'best sense of humor award of the millennium'.
Vennela Kishore never acted in this insipid comedy track. The entire credit goes to the director.
At one point, Akhil says his situation is like that of rasam that was placed on a banana leaf. The rasam goes in all directions. By the end of the film, we feel the same, as the story moves in many directions.
"Most Eligible Bachelor" is just a passable rom-com, but with more boring portions.
Bottom-line: This bachelor story is a 'boiler'