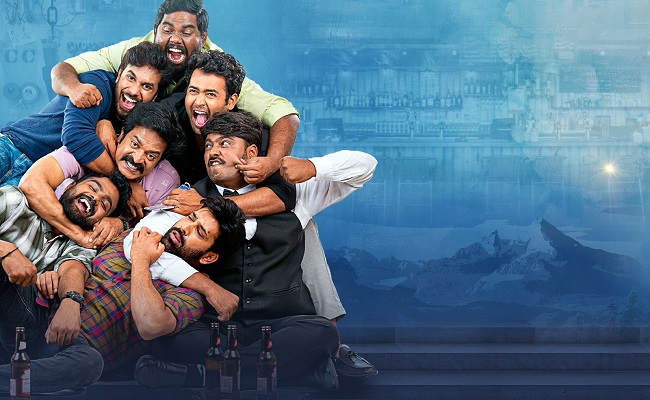 Movie: Men Too
Rating: 1.5/5
Banner: LANTERN Entertainments
Cast: Naresh Agastya, Brahmaji, Harsha Chemudu, Sudharshan, Riya Suman, Priyanka Sharma, Mourya Siddavaram, Kaushik Ghantasala, Ashritha, Karthik Adusumilli
Music: Elisha Praveen G & Osho Venkat
Editor: Karthik Vunnava
Cinematography: PC Mouli
Producer: Mourya Siddavaram
Directed by: Srikanth G Reddy
Release Date: May 26, 2023
Aditya(Naresh Agastya), a corporate employee struggling to find his place in a predominantly female workspace, seeks recognition and validation.
Munna(Mourya Siddavaram), a disillusioned mechanic, holds a grudge against women after a failed romance.
Sanju(Kaushik Ghantasala) finds himself trapped in a loveless relationship with Neha, a stand-up comedian who harbors animosity towards men.
These three men discover solace and camaraderie in a bar exclusively for men, where they share their frustrations and grievances.
Determined to make their voices heard, they embark on a journey that tests the limits of their convictions.
How far are they willing to go to champion men's rights and find their own sense of identity?
Artistes' Performances:
Naresh, Kaushik, and Mourya portray their respective roles skillfully, maintaining their energy throughout the film.
Harsha, in his role as Rahul, delivers a powerful performance that showcases his acting and dancing abilities, marking a departure from his usual comedic roles.
Brahmaji, Nellore Sudharshan, Priyanka Sharma, and Riya Suman also play significant supporting roles.
Technical Excellence:
The music by Elisha Praveen and Osho Venkat, as well as the cinematography by PC Mouli, are decent. The film is edited by Karthik Vunnava, with costume design by Srihitha Kotagiri and art direction by Chandra Mouli.
Analysis
In a world where the boundaries between feminism and pseudo-feminism have become blurred, director Srikanth G Reddy and writer Rakendu Mouli attempt to showcase the perspective of men who have fallen victim to pseudo-feminism through their film Men Too.
While the concept is promising and the cast delivers their performances effectively, the overall presentation lacks clarity.
The screenplay would have benefited from better execution and coherence, as Aditya's message about men wanting equality and being victims themselves gets lost amidst the confusion.
With a blend of comedy, the film aims to present an intriguing perspective from the male standpoint but struggles to execute its ideas effectively.
Men Too is a film that revolves around a group of men expressing their grievances, but it fails to provide a thoughtful exploration of the topic. Instead, it relies on provocative generalizations about women, which undermines its overall message. While it acknowledges that being a man can have its challenges, the film itself proves to be a difficult watch due to its lack of nuance and meaningful storytelling.
Bottom Line: Silly