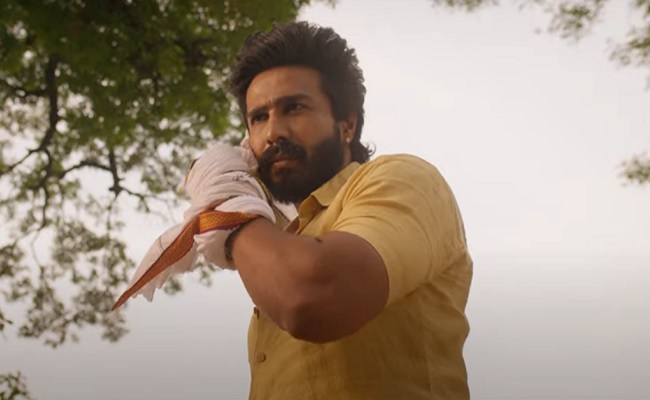 Movie: Matti Kusthi
Rating: 2.5/5
Banner: RT Team Works, VV Cinema
Cast: Vishnau Vishal, Aishwarya Lekshmi, Ajay, Karunas and others
Music: Justin Prabhakaran
Director of Photography: Richard M Nathan
Editor: Prasanna GK
Art: Umesh J Kumar
Stunts: Anbariv
Producers: Ravi Teja, Vishnu Vishal
Written and directed by: Chella Ayyavu
Release Date: Dec 02, 2022
Vishnu Vishal's previous film was a thriller and was well-received. Mass Maharaja co-producing Vishnu Vishal's new film "Matti Kusthi" is the reason why the film created some interest.
Let's find out its merits and demerits.
Story:
Veera (Vishnu Vishal) is a villager with a limited education. He wants to marry a girl who did not do well in school and has long hair. Keerthi (Aishwarya Lekshmi) is a wrestler who also happens to be a graduate. Her fascination with wrestling prevents her from obtaining marriage alliances, causing her father great distress.
On the advice of her uncle, she agrees to marry Veera while lying about having only finished seventh grade and wearing hair extensions. Keerthi works hard to keep her wig from falling off after her marriage. She acts obedient as well.
When her husband is attacked by thugs one day, Keerthi does not hesitate to use her wrestling skills to save him. So, she reveals her true self to her husband. What happens next?
Artistes' Performances:
Vishnu Vishal should be commended for delegating control to the heroine Aishwarya Lekshmi. He does a good job as a villager. Aishwarya Lekshmi steals the show. She has the best scenes in the movie. She is the story's soul, and she gives it her all.
Karunas is particularly effective as the uncle. An actor who plays the lawyer also contributes to the comedy.
Technical Excellence:
Music is provided by Justin Prabhakaran of "Radhe Shyam" fame, but the songs are forgettable. Richard M Nathan's cinematography is striking.
Dialogues are acceptable. The editing is sloppy.
Highlights:
The film's message
Pre-Interval sequence
Aishwarya Lekhsmi's performance
Drawback:
Old-fashioned presentation
Illogical second half
Over the top scenes
Analysis
The title "Matti Kusthi" suggests that the film is a straight-up sports drama. There are elements of sports drama in the film, but it is more of a family entertainer and a message film than a sports film. The main plot of "Matti Kusthi" revolves around chauvinistic men realizing that women are capable of achieving anything and husbands changing their attitude toward women as subordinates.
The first half of the film is filled with scenes of Aishwarya's dreams being shattered and her becoming a wife to a man-child-like person, as well as Vishnu Vishal and his gangs joking about wives and discussing wives who always appear in 'nighties.' On the other hand, there is a lengthy scene in which a group of wives voice their opposition and declare men to be a bunch of idiots.
These scenes are all part of the comedy. These episodes are reminiscent of Anil Ravipudi's films "F2" and "F3."
We see a lengthy scene in which the heroine makes every effort to keep her wigs from falling off. We also see how the hero goes to great lengths to create a false image of himself for his wife.
The first half, which is filled with such "comedy sequences," concludes with a fantastic interval bang. Aishwarya Lekshmi delivers a heroic intermission bang.
After the intermission, however, the film becomes a wife and husband weepy drama. Things go off the rails as soon as the second half begins, and the film squanders around aimlessly. The plot is predictable, as is the treatment.
The entire episode of the wife and husband wrestling match is illogical. Furthermore, the hero, who has never heard of Matti Kusthi, enrolls in a wrestling training programme for 15 days. Despite having a good message at the end, the film completely deviates from there.
Overall, "Matti Kusthi" is reminiscent of rural comedy films from the 1990s. The only difference is that it contains a timely message. Despite having a good intention and an entertaining first half, the film suffers from a formulaic narrative and a clichéd treatment.
Bottom line: Clichéd Treatment