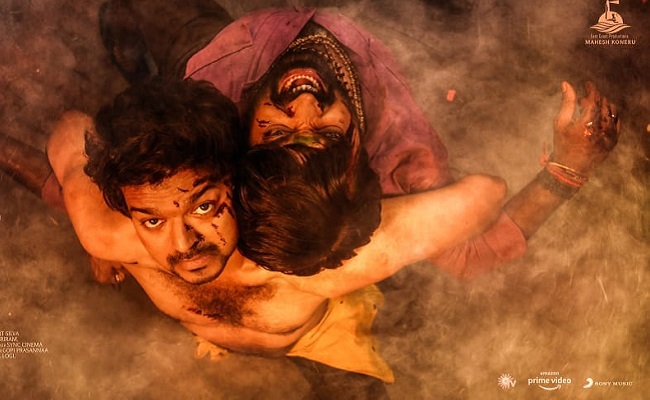 Movie: Master
Rating: 2/5
Banner: XB Film Creators
Cast: Vijay, Vijay Sethupathi, Malavika Mohanan, Andrea Jeremiah, Arjun Das, and others
Music: Anirudh Ravichander
Cinematography: Sathyan Sooryan
Editor: Philomin Raj
Action: Stunt Silva
Art: Sathees Kumar
Producers: Xavier Britto
Written and Direction: Lokesh Kanagaraju
Release Date: Jan 13, 2020
Tamil superstar Vijay and another talented Tamil star Vijay Sethupathi acted together for the first time for 'Master'. This combination has generated expectations since its announcement. Plus, the film is helmed by 'Khaidi' fame Lokesh Kanagaraju.
Despite not releasing an official trailer, the film has managed to create hype in the Telugu states for this reason. Let's find out its merits and demerits.
Story:
JD (Vijay), a drunkard professor conducts the student elections peacefully, teaching the students the importance of polls in a democratic system.
Hailed as a 'master', he gets transferred to an observation home for juvenile criminals in Warangal to set things right.
A shocking incident at this home makes him rid of his drinking habit and take on Bhavani (Vijay Sethupathi), who created a criminal empire by using these juvenile criminals for his heinous activities.
How JD handles Bhavani forms rest of the story.
Artistes' Performances:
Vijay oozes style in every frame. In a righteous and a bit mysterious role, he has pulled it off well. Even at the end, his 'flashback' remains a mystery but he has convincingly played this part.
It is Vijay Sethupathi, who is known for spotless performance. He made yet another praiseworthy presence. He is excellent as the villain and a perfect foe to the superstar Vijay. His dialogues are peppered with sarcasm.
Malavika Mohanan doesn't get much screen time. She doesn't get a chance to have a proper romantic track or full-length duet with Vijay. Arjun Das as Dasanna is effective.
Technical Excellence:
Director Lokesh Kanagaraju is a solid technician, and he extracts, as was shown in his previous films, the best from the technicians. Sathyan Sooryan's camerawork is splendid.
Anirudh Ravichander's songs are not impactful, but his background score elevates the mood. He even provided signature music to both Vijay and Vijay Sethupathi.
The action sequences are a major highlight, and they are shot in a superior way. The film is too lengthy; editing could have been crisper.
Highlights:
Vijay and Vijay Sethupathi
Certain action blocks
Drawback:
College portions
No emotional high
Excessive fights
Climax portions
Analysis
Director Lokesh Kanagaraj's previous film Karthi starrer 'Khaidi' won critical acclaim. It was entertaining and intelligently made.
Critics praised his writing and his different approach in narrating stories that focused on the content than the star image. Probably, this was the reason why superstar Vijay had agreed to work with him.
He has begun the film in his style by introducing Vijay Sethupathi's character, how he has turned into a shrewd and formidable rowdy in Warangal.
It takes nearly 15 minutes to bring Vijay's character into the story. Until this time, Lokesh has played to his strength.
Once Vijay appears on the screen, and the story moves to a college drama, the director has lost his grip and balance. The entire stretch of college portions is shot in a lousy manner. The director has completely surrendered to the image of Vijay.
Luckily, the story comes into the groove once the drama moves to a juvenile observation home with a perfect platform set for the face-off between Vijay and Vijay Sethupathi.
Post-interval, there are two interesting sequences – Vijay meeting Vijay Sethupathi in the most dramatic manner, and pre-climax scene. But, as the film progresses, we get the feeling that the director is trying to put one fight sequence after another to elevate Vijay's mannerisms, stylish gestures, rather than telling a story.
Despite the action-packed second half, the film ends abruptly, without any high moment. 'Master' is entertaining in parts and strong performances from the two lead actors, but due to an unconvincing climax, the desired impact is not made in the end.
On the whole, 'Master' is more of Vijay's movie than a director's film. It has style and swag but nothing else.
Bottom-line: All Style, No Substance