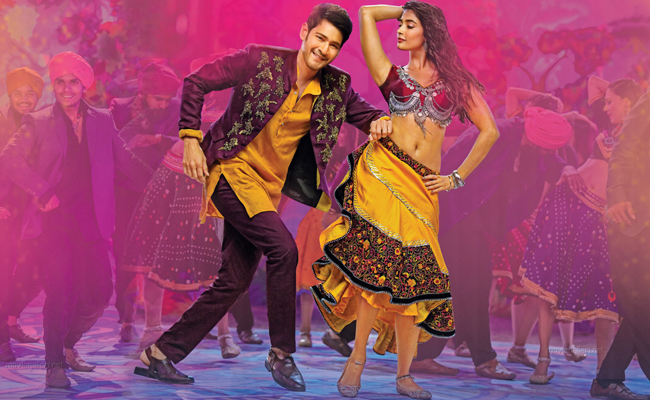 Movie: Maharshi
Rating: 2.75/5
Banner: Vyjayanthi Movies, Sri Venkateswara Creations, PVP Cinema
Cast: Mahesh Babu, Pooja Hegde, Allari Naresh, Jagapathi Babu, Prakash Raj, Rao Ramesh, Jaya Sudha and others
Story: Hari, Vamshi Paidipally, Solomon
Music: Devi Sri Prasad
Cinematography: K.U. Mohanan
Production Designer: Sunil Babu
Editor: K. L. Praveen
Action: Ram-Lakshman
Producers: Dil Raju, Ashwini Dutt, PVP
Director: Vamshi Paidipally
Release date: May 09, 2019
'Maharshi' is one of the most-anticipated film of 2019 as it is 25th movie in Mahesh Babu's career. The big-budgeted movie is here.
Touted to be special movie for Mahesh Babu, the film also brings three producers together. Is the film worth of all the hype?
Has the 'Oopiri' director Vamshi Paidipally been able to create magic again? Let's find out.
Story:
Rishi (Mahesh Babu) is a successful CEO of a company named Origin in New York. Some of his old friends gather together when he assumes charge and he goes down the memory lane, recalling his college days, his friends Pooja (Pooja Hegde) and Ravi (Allari Naresh).
Rishi initially helps Ravi during his college days. He breaks up with Pooja and has a small fight with Ravi and leaves for USA to pursue a better life.
His professor reveals a secret about Ravi. Repenting Rishi comes back to India looking for Ravi. Rishi's path and journey in life changes.
Artistes' Performances:
'Okkadu', 'Atadu', 'Pokiri', 'Dookudu' and 'Bharat Ane Nenu' and in many more films, Mahesh Babu has shown his range of acting talent in his long career. The role of Rishi has given him a chance to showcase another angle. Mahesh who is in his early 40's now has appeared as a college student in the first half of this movies. He passes the muster with student looks. He gives his usual best.
After Mahesh Babu, it is Allari Naresh who steals the show. As Mahesh Babu's close friend, Naresh has got a well-written character and he excels in it, though his role is curtailed after a point.
Pooja Hegde as Mahesh Babu's girlfriend sizzles in glamour. Jagapathi Babu as corporate villain is just okay.
Vennela Kishore and Srinivasa Reddy have nothing much to do. Prakash Raj and Jayasudha as Mahesh Babu's parents have given routine expressions. Rajeev Kanakala and Posani appear in small roles.
Technical Excellence:
Devi Sri Prasad has failed to provide foot-tapping numbers. Still two songs have worked out well on screen.
The film has lavish production values and rich cinematography. K U Mohanan shot both USA locations and college episodes in bright colors giving richness to the movie.
Action stunts by Ram Lakshman are good in the second half. Editing should have been tighter, the second half is too lengthy.
Highlights:
Mahesh Babu
College episodes in the first half
Some emotional moments
Drawback:
Never ending-like second half
Predictable narration
Lengthy Runtime
Similarities with Mahesh's recent films
Analysis
One expects the 25th movie to be special in every way. "Maharshi" being Mahesh Babu's 25th movie promises the same as it begins on a high note that is mounted on a lavish scale.
Director Vamshi Paidipally has presented Mahesh Babu in two variations in the beginning, that of a corporate guy and a college student. This mixing has worked out well.
The basic point – a guy who went on chasing success and money over relations in the initial point of life and later in the second point he realizes the mistake when he learns that his success is result of someone's sacrifice – seems interesting on paper.
Director Vamshi Paidiapally begins the film much like Aamir Khan's "3 Idiots" but the movie soon turns into a totally different one and the narration in the later part goes wrong on multiple levels.
In the beginning of the interval, it is presented that Naresh's village is being grabbed by a corporate company for a pipeline project and the mission is to save the village and the farmer's lands. But as the film progresses, it moves to different path and ends up lecturing on various issues related to farming which ends up like a thesis on farmer's issues.
Like Mahesh Babu gave us lecture in "Srimanthudu" and "Bharat Ane Nenu" on two different subjects, here too he talks at length (again a big press meet sequence much like in "Bharat Ane Nenu") about farmers. This in turn has turned into a predictable fare.
The journey has totally gone on a wrong path towards the end. Moreover, Rishi drives very slowly and reaches to the end at 3-hours runtime.
This is what happens when the writers or directors copy a successful movie (3 Idiots) and try hard not to be called copycats, they eventually include things that don't fit in the story they copied.
While the first half is largely decent, the second half works in some places and bores in other places and goes unevenly.
Mahesh Babu is presented as CEO of an American company but his characterization is totally cinematic, nowhere has it mirrored real life with him having battalion of assistants, gangs. The CEO even shouts at his managers as if they were beggars. In the second half, Jagapathi Babu the main villain is too passive.
All in all, "Maharshi" has its moments and is shot in a glossy way, presents some good instants but the journey is riddled with many bumps.
Bottom-line: Too Long
Click Here for Latest Direct-to-OTT Releases (List Updates Daily)