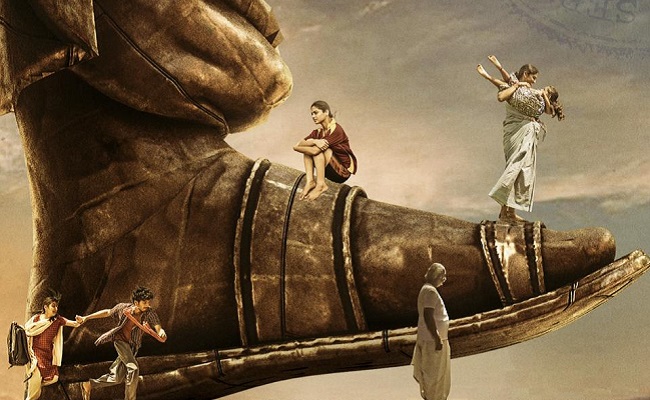 Movie: Johar
Rating: 2/5
Banner: Dharma Surya Pictures
Cast: Chaitanya Krishna, Naina Ganguly, Esther Anil, Ankith Koyya, Easwari Rao, Subhalekha Sudhakar, CVL and others
Cinematography: Jagadeesh Cheekati
Producer: Sandeep Marni
Written and directed by: Teja Marni
Release Date: August 14, 2020
OTT Platform: Aha
As the theaters remained shutdown during this pandemic, streaming companies are releasing small movies on their platforms. The latest one is 'Johar'.
Let's analyze.
Story:
To continue his father's legacy who ruled the state for many years, a young chief minister of Andhra Pradesh (Chaitanya Krishna) decides to install the world's tallest statue.
The cash-strapped state needs Rs 3000 crore to build the statue. To mobilize funds for his passion project, he cuts down the allocation of funds to various welfare schemes.
How the CM's decision affects the lives of poor people like a runaway teenage couple (Esther Anil and Ankith), an idealistic hostel owner (Subhalekha Sudhakar), a poor Uddanam woman (Eeswari Rao) whose daughter is diagnosed with kidney disease, and a poor athlete (Naina Ganguly) affects?
Artistes' Performances:
The performances of senior actors Subhalekha Sudhakar and Eeswari Rao have added weight. Chaitanya Krishna looks apt for the role of CM.
Esther Anil and newcomer Ankith fail to make any impact. Naina Ganguly as a circus girl who aims to be an athlete is okay.
Technical Excellence:
Jagadeesh Cheekati's camera lends visual appeal. Music is plain. Other technical departments have put in decent efforts.
Highlights:
Basic idea
Some emotional moments
Drawback:
Predictable scenes
Naïve understanding of politics
The thread of a teenage couple
Old-style scenes
Analysis
The Indian commercial cinema has witnessed two styles of political movie narrations, one that is popularized by Shankar and Murugadoss, and the other is a hard-hitting realistic approach by great off-beat filmmakers.
"Johar", a new Telugu film with a political theme with a topical point of statue politics from a debutant director Teja Marni, treads neither path.
The point that is in the discussion here is quite relevant but the narration is where the film falters big time.
Except for that ideological fervor, the director seems to have a poor-understanding of Indian politics and governance. It is not entirely convincing how the CM's decision of statue-politics affects various sections of people except it serves the purpose of depicting the plight of the marginalized people.
Why would the CM expect funds from the 'center' for a statue project? Does any CM tell their political plans behind a particular project to the entire group of officials in a meeting? The conversations between CM and his advisor also sound completely out of reality.
Besides this, the entire thread of teenage lovers (a chai-wala and the daughter of a prostitute) running away from Varanasi to Rajamundry is proof of clichéd writing. A freedom fighter who met Subash Chandra Bose in the 1940s still runs the hostel for poor kids. And what would be his age now?
The conversation scene between a CM and a journalist is another example of the director's unrealistic approach.
The execution and better understanding of politics are as important as good intent. This what is lacking here. The narration with the hyper-linked stories adds nothing much novelty.
While we all agree that governments are increasingly indulging in projects that bring political gains and spending money on the unproductive schemes, the point needs more mature narration.
All in all, "Johar" is a preachy political satire with little redeeming points.
Bottom-line: No Salute!
Click Here for Latest Direct-to-OTT Releases (List Updates Daily)