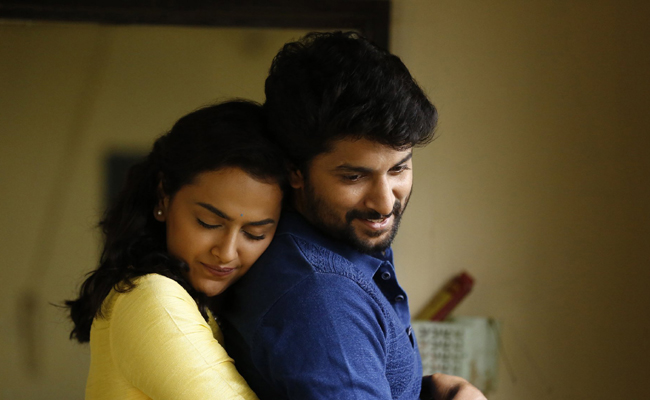 Movie: Jersey
Rating: 3.5/5
Banner: Sithara Entertainments
Cast: Nani, Shraddha Srinath, Sathya Raj, Praveen, Sampath and others
Music: Anirudh Ravichander
Cinematographer: Sanu Varughese
Art: Avinash Kolla
Editor: Navin Nooli
Producers: Suryadevara Naga Vamsi
Written and direction: Gowtam Tinnanuri
Release date: April 19, 2019
Nani's "Jersey" has generated lot of interest ever since its first look was released. The movie's trailer received unanimous positive response further spiking up expectations. Has the movie lived up to expectations?
Let's analyse.
Story:
Arjun (Nani) quits cricket at the age of 26 though he scores many centuries and wins matches. He tells wife Sarah (Shraddha Srinath) that he wants to do regular job and joins as a manager in FCI. However, he loses this job on wrong charges and he's struggling to make ends meet though his wife works in a hotel.
Set in 1996, the story then narrates how Arjun, now 36-year-old wants to play for Ranji matches again, to fulfil his young son's wish.
Will he succeed at this age that normally is considered retirement stage in professional sports? What is the real secret behind Arjun quitting from the game at 26?
Artistes' Performances:
Nani, without a doubt, has given his best performance. Matured acting this is. The internal turmoil of a failed cricketer, the helplessness of a penniless father, and the struggle with all the problems… Nani has portrayed them with perfection. He is also quite believable in the jersey of a cricketer. He has carried the mood from start to finish.
Besides cricket and sentiments, this is also performances driven movie and Nani leads from the front.
Shraddha Srinath as his wife has also given competent performance. Hers is not a glamorous role. She has pulled it off well.
Sathya Raj as Nani's coach is excellent. After Nani, Sathya Raj gets more role. The kid Ronit is cute and gives touching expressions. Sampath as coach is neat.
Technical Excellence:
Anirudh Ravichander's tunes are not so catchy but his work in the BG department is huge asset. Cinematography by Shanu is top-class. He has filmed cricket matches in a realistic way.
Art work and production values are superb. Dialogues are fantastic. Screenplay writing is excellent.
Highlights:
Story
Nani's performance
Emotional scenes
Background score
Cinematography
Drawback:
Runtime
Excessive cricket footage
Analysis
Very rarely we get to see movies based on cricket in Tollywood. "Jersey" is totally different in terms of plot, genre and narration. This is not a regular Tollywood movie.
Even though it touches on the aspects of husband-wife differences, father-son sentiment, this is more about making your dreams come true overcoming all obstacles.
As a journalist writes a book on Arjun's life (played by Nani), it stresses the point that "it's never too late to dream".
36-year-old Arjun aiming to get a place in the national team is the basic point. But director Gowtam Tinnanuri has layered many elements to tell it in a compelling manner. To hold the sports drama till the end, one needs emotional pitch. This is where Gowtam has succeeded.
Why does Arjun dream to join the cricket team at the age of 36 after quitting at 26 voluntarily? Because he wants to remain as a hero in son's eyes forever. This point is the core element of "Jersey" and this has given the required emotional touch to the sports drama.
Director Gowtam Tinnanuri has begun the movie by going back and forth from 1986 to 1996, from revealing his current life of wife and kid and his early romance with his future wife.
After establishing these, he comes to the main point, his son asking for an Indian Cricket team's Jersey and Arjun aiming for it and from here, the director narrates the story in a straight forward manner. He doesn't forcibly include any twists.
Everything happens as one can easily guess, still it is engaging enough, and it unfolds without pretence. And he brings a good twist in end that makes the film complete.
It is quite interesting from start to finish. The first half builds on characters and their problems and the second half goes on emotional pitch.
The director has also dealt the wife-husband's gap in a matured way. The father-son sequences are endearing. The Railway station scene is a wonderful moment.
Nani's performance is brilliant that make the movie even more engaging.
On the downside, the film runs on slow pace and has taken plenty of time to come to the main point. Also the cricket matches become repetitive after a time. The film needs trimming.
All in all, "Jersey" is an inspirational sports movie that tells the triumph of the common man and teaches you to never give up. Aided by natural performance of Nani and heart-warming moments, "Jersey" is a winner. This will appeal to audiences who like classy movies.
Bottom-line: Right Pitch