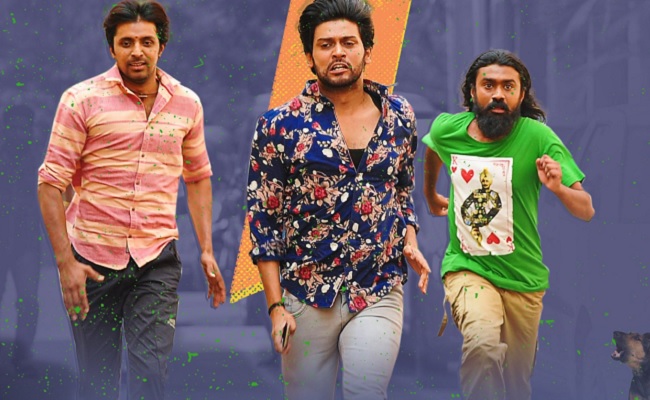 Movie: Jathi Ratnalu
Rating: 2.75/5
Banner: Swapna Cinema
Cast: Naveen Polishetty, Priyadarshi, Rahul Ramakrishna, Faria Abdullah, Brahmaji, Brahmanandam, Vennela Kishore, and others
Music: Radhan
Cinematography: Siddam Manohar
Editor: Abhinav Danda
Producers: Nag Ashwin
Story, Direction: Anudeep
Release Date: March 11, 2021
For various reasons, "Jathi Ratnalu" has made a huge pre-release buzz. For, it is coming from the production of Swapna Cinema and Nag Ashwin, the team behind "Mahanati". Plus, Naveen Polishetty made a huge impression with his earlier outing, "Agent Srinivasa Athreya".
The other reason is the trailers are highly entertaining. All these factors have helped to create big hype around this movie.
Let's find out whether the film is entertaining as the trailer promised.
Story:
Srikanth (Naveen Polishetty) runs a ladies emporium in Jogipet. He is ashamed of people calling him Ladies Emporium Srikanth and dreams of getting a job in Hyderabad and settle there. Along with his two friends Sekhar and Ravi, Srikanth land in Hyderabad.
Circumstances lead them to occupy a vacant flat in a rich gated community, and Srikanth falls for the charm of Chitti (Faria), who is the daughter of their neighbor.
One of the residents of the apartment complex is a politician Chanakya (Murali Sharma). One day, he throws a party. Srikanth, Ravi, and Sekhar land in a trouble due to an incident at the party, and they are sent to jail.
How they prove their innocence and come out of this mess?
Artistes' Performances:
Naveen Polishetty has a terrific screen presence and has shown so much ease in acting. After nailing Agent Srinivas Athreya's role perfectly, he glides into the character of a small-town guy effortlessly. The film is his show entirely. His comic timing is impeccable.
Rahul Ramakrishna and Priyadarshi are an absolute joy to watch. The trio – Naveen Polishetty, Rahul Ramakrishna, and Priyadarshi – have made this film tick. Newcomer Farria Abdullah fits well in her role.
Vennela Kishore as jail inmate and veteran comedian Brahmanandam as a judge have also contributed to the film's fun quotient.
Murali Sharma as a politician is okay. Keerthy Suresh and Vijay Deverakonda make cameo appearances.
Technical Excellence:
The film has a decent production design, and technical shine. Radhan's music works. The Chitti song has already gone viral and it fits well in the story. The background score is neat.
Siddam Manohar's cinematography is fairly decent and editing is fine.
Highlights:
Out and out comedy episodes
Naveen Polishetty's performance
Aplenty one-liners
Breezy first half
Drawback:
Thin plot
Prolonged second half
Analysis
"Jathi Ratnalu" comes to the point directly and begins on a fun note. Without taking much time, it introduces the main characters – Naveen, Rahul, and Priyadarshi, and their goals and their problems, and shifts its story backdrop from small-town Jogipet to Hyderabad. The storyline is very thin.
At the very beginning of the film, the director establishes that it is a madcap entertainer, asks us not to look for reason or logic. It is like watching old EVV movies, or Ram Gopal Varma's "Money Money" or "Anaganaga Oka Roju". But "Jathi Ratnalu" has a thinner storyline than those movies. However, it provides more fun.
As a plot, it doesn't have much to offer, but the director Anudeep has humor in his armour. He handles a lot of scenes with panache. The first half of the film is breezy fun.
It is nonsensical to the core. Characters keep coming, silly situations do happen, the movie meanders into all sorts of directions. Still, the fun never fades. Jokes are offered aplenty.
Thanks to the three lead actors and their absolutely terrific comic timing, the absurd situations have also worked.
The first half ends on a great promise, but the same cannot be said for the post-interval situations. The court proceedings are too silly for even the standard of this madcap movie.
The director and writers seem to have fallen in love with their one-liners and comic writing so much so that they have forgotten to chop the runtime. The pace goes slow down towards the end. The final moments luckily save it. But some sequences look forced and don't work in the second half.
In a nutshell, "Jathi Ratnalu" is a joyride laced with outrageously funny sequences. It is crazy and lacks logic. Forget everything, watch it for its abundant comedy and Naveen Polishetty's show.
Bottom-line: Comedy Thopu