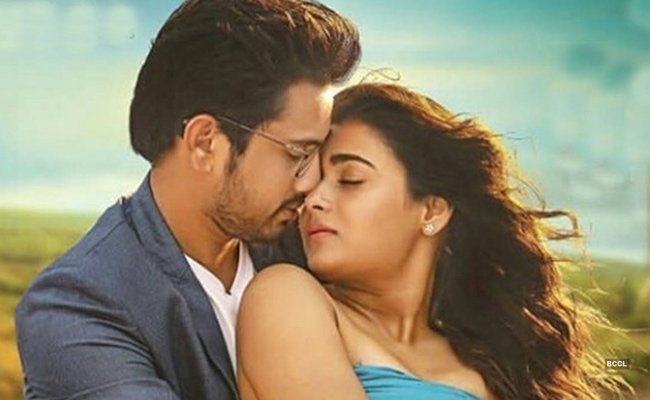 Movie: Iddari Lokam Okate
Rating: 2/5
Banner: SVC Creations
Cast: Raj Tarun, Shalini Pandey, Raja, Nasser, Sijju, Rohini, Bharath, and others
Dialogues: Abburi Ravi
Music: Mickey J Meyer
Cinematography: Sameer Reddy
Editing: Tammi Raju
Producer: Sirish
Directed by: GR Krishna
Release date: December 25, 2019
Raj Tarun has been going through a low phase. All recent films are duds. However, 'Iddari Lokam Okate' had created some interest due to many factors chief being it is a Dil Raju's production. Plus, Shalini Pandey is the heroine.
Let's analyze.
Story:
In 1990, two kids are born at the same time, in the same hospital in Ooty and since then their destinies are interlinked.
Varsha (Shalini) follows the dream of becoming an actress while Mahi (Raj Tarun) becomes a famous photographer. Though they have been separated for long, destiny brings them together.
After watching a photo exhibition of Mahi, Varsha starts developing friendships with him and soon falls in love with him. Is everything going to be fine or fate has other plans?
Artistes' Performances:
Taking a long gap before signing this movie has made good to Raj Tarun as he looking refreshingly better. He is good in the role of Mahi, the photographer.
Shalini Pandey as the upcoming actress has played the role with ease. Bharath as a friend is miscast. Rohini, Sijju, and Nasser are okay.
Technical Excellence:
Cinematography is rich. Sameer Reddy's camera captured the locations of Ooty and Hyderabad beautifully.
Music by Mickey J Meyer gives 'heard' feeling, lacks impact. Dialogues are appropriate.
Highlights:
Emotional Climax
Drawback:
Slow narration
Lack of entertainment
Predictability
Analysis
"Iddari Lokam Okate" is an official remake of a Turkish drama "Love Likes Coincidences". The film was released in 2011.
By now, many of the sequences – the thread of childhood episodes between two lovers and angle of star-crossed lovers meeting again and again – have already been used in several other Telugu movies.
Except for the climax portion of the Turkish drama, the rest of it has already been rehashed by the Telugu filmmakers.
"Iddari Lokam Okate" is mostly faithful to the original movie but it lacks the novelty factor. This kind of romantic dramas works when they get things correct – 1) entertainment 2) music. This Raj Tarun and Shalini Pandey drama count low on these two things.
The weak characterization of Raj Tarun's friend (played by Bharat) is enough proof that the writers and director have missed the opportunity to tell it entertainingly.
The scenes of Shalini Pandey acting experiments are quite boring. The childhood episodes also lack impact. The film's biggest strength is its penultimate portions. But such emotional drama needs a better narration.
"Iddari Lokam Okate" is not a bad film but what it lacks is freshness. Among Raj Tarun's recent outings, this one is better but this is not sufficient. Familiarity is the biggest drawback of this movie.
Bottom-line: Seen and done