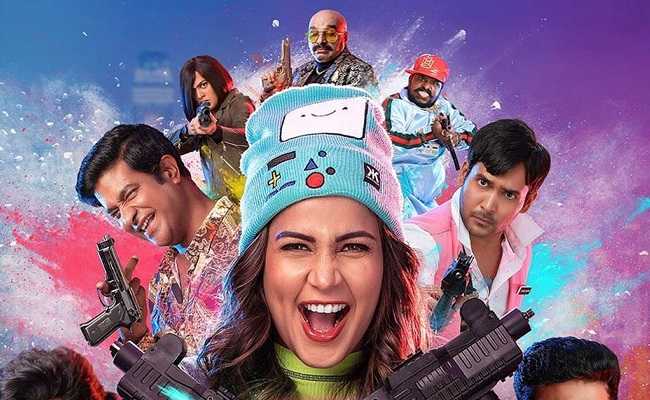 Movie: Happy Birthday
Rating: 1.5/5
Banner: Clap Entertainment & Mythri Movie Makers
Cast: Lavanya Tripathi, Vennela Kishore, Rahul Ramakrishna, Sathya, Viva Harsha, Gundu Sudarshan, and others
Music: Kaala Bhairava
Cinematography: Suresh Sarangam
Editor: Karthika Srinivas
Production design: Narni Srinivas
Action: Shankar Uyyala & Teja
Producer: Chiranjeevi (Cherry) & Hemalatha Pedamallu
Written and Direction: Ritesh Rana
Release Date: July 08, 2022
A big production house like Mythri Movie Makers backing a small film raised curiosity. When the trailer came out, the surreal comedy "Happy Birthday" further evoked interest. With Rajamouli praising the film's trailer at the pre-release event, the buzz went further.
Let's find out its merits and demerits.
Story:
To narrate this story in a paragraph or two in a linear manner is a herculean task. When minister Rithvik Sodhi (Vennela Kishore) passes a gun amendment bill in the parliament, the drama begins. And the story cuts to a birthday party in a hotel, Happy (Lavanya) comes to the hotel for the celebration.
A birthday party in the hotel sets a flurry of events, that include Happy trying to activate a bomb in the hotel, Max Pain (Satya) agreeing to bury a dead body, and a room service boy agreeing to transfer a lighter to another place, etc.
How all are connected and who is controlling the entire drama?
Artistes' Performances:
The film doesn't have a 'lead hero'. Lavanya Tripathi appears in central roles. Yes, she plays a dual role. Lavanya does the second role of the baby quite convincingly. She pulls off the roles given to her easily. She gets good marks for her act.
Vennela Kishore and Sathya occupy much of the screen space. The talented actors play their parts well.
Gundu Sudarshan is okay. Rahul Ramakrishna's role doesn't have a proper end. Viva Harsha's role doesn't make any sense in the story.
Technical Excellence:
The production design is excellent. The hotel set is glitzy and suits well to the film's wacky theme. The cinematography is cool. The other technicians have put in decent efforts.
Highlights:
The fun quotient in the first half
Translation sequence
Drawback:
Wacky and tacky situations
Irreverent narrative in the second half
Tough to connect with the happenings
Crazy and illogical scenes
Analysis
Said to be the Telugu cinema industry's first surreal comedy, "Happy Birthday" is set in a hotel. The hotel serves as the base for whatever story it tries to tell. Directed by Ritesh Rana, whose first film "Mathu Vadalara" had also explored little known world of meth labs, this film looks more eccentric than surreal.
Surreal comedy is a form of humor dealing with events and behaviors that are illogical and possesses bizarre situations. "Happy Birthday" not only has bizarre situations, but it also houses a tacky narrative.
When the film begins with Vennela Kishore passing a gun bill and his subsequent interview scene appears, we feel that the director is introducing us to a new style of narrative. It doesn't take much time to realize that the film is turning out to be a mess.
The film is narrated in six or seven chapters, we lose count of them as the film progresses it becomes unbearable to sit. Whatever quirkiness it promises in the beginning, wears off quickly. The later portions are made as per the director's whims and fancies with no coherence or reasoning.
We regularly use phrases like this film is boring when it tests our patience. But this film doesn't test our patience, it makes us angry at the makers for taking us for granted. Many scenes reek of lousiness and madness. If we were to borrow a Telugu phrase, the director has made it with his 'chittam'.
We don't connect with either the lead actor Lavanya Tripathi or the comedian Vennela Kishore's track. Comedies don't require logic. Films like "DJ Tillu" or "Jathi Ratnalu" also lacked logic but they have a structure and terrific characterization for lead actors to travel with them.
By end of the film, you don't even understand what the story is about, why Lavanya Tripathi takes revenge on Vennela Kishore and the entire setup.
There are a couple of hilarious moments. The best is the translation episode between Vennela Kishore and Satya. But in this mad max of situations, one or two comedy scenes hardly matter. In one line, "Happy Birthday" provides maximum pain.
Bottom line: Max Pain