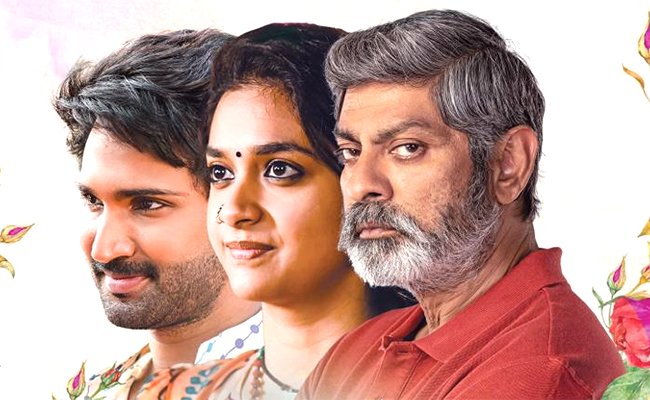 Movie: Good Luck Sakhi
Rating: 1/5
Banner: Worth A Shot Motion Arts
Cast: Keerthy Suresh, Aadhi Pinishetty, Jagapathi Babu, Rahul Ramakrishna, Ramaprabha, and others.
Music: Devi Sri Prasad
Director of Photography: Chirantan Das
Editor: Sreekara Prasad
Producer: Sudheer Chandra Padiri
Co-Producer: Shravya Varma
Written and Directed by: Nagesh Kukunoor
Release Date: Jan 28, 2022
National award-winning actress Keerthy Suresh and renowned filmmaker Nagesh Kukunoor have teamed up for a sports-based Telugu film, "Good Luck Sakhi".
The film has been delayed multiple times due to the COVID-19 pandemic. And finally, the film hit the theaters today. Let's find out its merits and demerits.
Story:
Set in a village in Rayalaseema in Andhra Pradesh, the sports drama begins with a tale of friendship between two childhood buddies Sakhi (Keerthy Suresh) and Goli Raju (Aadhi Pinishetty). A retired colonel (Jagapathi Babu) decides to tap the potential of the villagers and make them shooting champions.
He selects Soori (Rahul Ramakrishna) and Sakhi (Keerthy Suresh) and trains them. Expectedly, Sakhi shows promise and wins at the district level. He coaches her to be a champion at the state level, but she gets distracted with rushes of love.
Artistes' Performances:
Keerthy Suresh fits well in the village belle avatar, and she has played the role with ease. Aadhi gets a routine character.
Jagapathi Babu makes his presence felt as her coach but beyond that, there is nothing to talk about. Rahul Ramakrishna appears in a forgettable role.
Technical Excellence:
Devi Sri Prasad's music is okay. But his music could not save the film either. The camerawork is adequate.
Highlights:
Keerthy Suresh
Runtime
Drawback:
Pointless drama
Weak writing and direction
No conflict at all
Outdated scenes
Analysis
"Good Luck Sakhi '' is the debut Telugu film for director Nagesh Kukunoor, who made critically acclaimed films like "Hyderabad Blues", "Iqbal" and "Dor".
For "Good Luck Sakhi'', he has written a cliched story of a person with untapped talent becoming a champion with the help of her coach. The story has a beaten-to-death feel. He adds another formulaic angle of the girl falling in love with her coach. The angle of infatuation and love has been explored umpteen times. What's new here? Nothing!
Forget about the story or formulaic screenplay, the biggest problem with this film is directionless narrative. Nowhere the film makes us invested in it. By the end of the film, we start cursing ourselves for our bad luck. So boring!
Nagesh Kukunoor introduces Sakhi as a girl who brings a bad omen, but after a point, he doesn't show anything about it or explore further.
He also introduces Sakhi as a lambada girl settled in Rayalaseema. What purpose does this 'lambada' part serve to the story? It doesn't have a specific value in the entire scheme.
Why does Jagapathi Babu decide to train villagers in the sport of shooting? We don't get any explanation for his motivation. He does it just like that. He picks up two random persons to train them as champions but we don't see any inspiring speeches from him.
Sports dramas generally work when the drama between the coach and the sportsperson is highly emotional. Example: Aamir Khan's 'Dangal'. But here Kukunoor adds just a simple angle of infatuation.
When the core point of the film itself looks pointless, how can the film engage us? The problem with "Good Luck Sakhi" is this.
A filmmaker who wrote and directed acclaimed films has surprisingly shown no creativity in any part of this film. Kukunoor's languid direction irritates us. Scenes like Rahul Ramakrishna desiring Keerthy Suresh and plotting against her when she rejected his advances, and Aadi Pinishetty playing Mayabazaar and other plays in his village prove that the director is yet to come out of the '80s and '90s ideas.
Even in bad films, we get to see one or two entertaining sequences. But "Good Luck Sakhi" doesn't offer any such.
The best part of the movie is its crisp runtime.
In a nutshell, "Good Luck Sakhi" is boring. Those who watched the film like us are the ones who are running with bad luck.
Bottom line: Bland and Boring