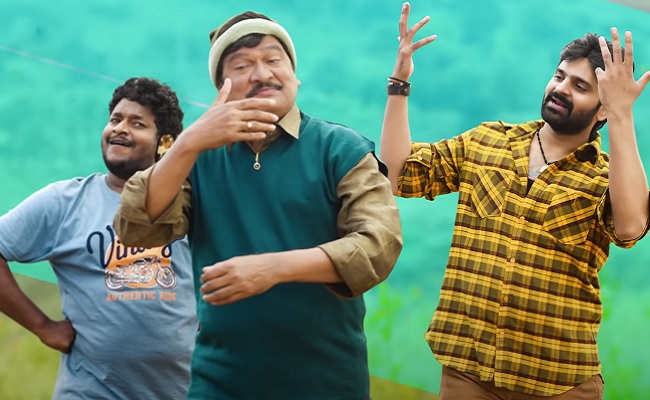 Movie: Gaali Sampath
Rating: 2/5
Banner: Shine Screens & Image Spark
Cast: Sree Vishnu, Rajendra Prasad, Lovely Singh, Tanikella Bharani, Sathya, and others
Music: Achu Rajamani
Story: S Krishna
Screenplay: Anil Ravipudi
Cinematography: Sai Sriram
Editor: Tammiraju
Art: AS Prakash
Producer: S Krishna, Sahu Garapati, Harish Peddi
Direction: Anish
Release Date: March 11, 2021
Anil Ravipudi is at the top of his game after delivering five hits in a row. Such a big director coming forward to write the screenplay for a small film would invariably create hype. It indeed did for "Gaali Sampath". The promos are also entertaining.
Let's analyze.
Story:
Gaali Sampath (Rajendra Prasad), and his son (Sree Vishnu) live in Araku. Their idyllic life takes a dramatic turn when Sampath, who cannot speak as his vocal cords were damaged in an accident, unknowingly plays spoilsport in his son's love story.
The son yells at his father for sabotaging his plans. As the disappointed Sampath leaving the home, he slips into a well, which was uncovered.
How will Sampath survive?
Artistes' Performances:
Without a doubt, the film belongs to Rajendra Prasad. Sree Vishnu plays the second fiddle. In the role of Gaali Sampath, Rajendra Prasad has given a fine performance although a bit louder act. Sree Vishnu as his son has done a neat job.
Among other characters, comedians Satya and Raghu Babu leave an impression. Heroine Lovely Singh has beautiful features, but she doesn't have much to do here.
Technical Excellence:
The cinematography is decent. The music is pretty ordinary. The production values are adequate.
Highlights:
Rajendra Prasad's performance
Final moments
Drawback:
Old-school narration
Dull first half
Survival episode looks farce
90's brand of comedy
Analysis
"Gaali Sampath" is not just a father-son drama. The core of the movie is a surviving drama. Like in the Hollywood movie "127 Hours", the main protagonist slips and falls into a deep hole (well). How does he survive in there as he cannot yell or talk as his vocal cords were damaged long back? Certainly, no one would come looking for him in this place. "Gaali Sampath" is more of a survival drama.
The point looks interesting on paper. But the execution is anything but interesting. What should have been a highly emotional and riveting experience to watch the protagonist's efforts to come out from the well is made into a cumbersome watch.
The film begins with Rajendra Prasad's efforts to get a chance to stage a drama at Parishad competitions. The usual comedy about a guy waiting to see 'pankajam cheera' goes on. The comedy at the beginning of the film sets the tone for the movie: a formulaic narrative.
Twenty minutes into the film, we even get doubts whether we are watching an Anil Ravipudi presented movie or Allari Naresh's early comedies. A woman trying to plait anyone's hair, a bank manager fooling the auditor by taking him to the entire width and breadth of Araku, and a guy's obsession to see the woman's removal of Saree….such sequences are straight out of the 90's or early 2000's comedy movies.
The first half of the film offers these and the second half turns into a survival drama, but this also appears as a farce.
Not just the jokes are bad, the romantic sequences lack an iota of creativity, and the sequences are also patchy. The film picks up the interest once the main conflict is established and the interval point is quite dramatic. But the final moments lack convincing.
In the age of OTT, films made with old ideas don't work at all. Anil Ravipudi who generally gets comedy right has failed here. Rajendra Prasad's 'Fa Fa' sounds turn irritating after a point as well.
In a nutshell, "Gaali Sampath" suffers heavily with lame writing, lousy direction. Though Rajendra Prasad and Sree Vishnu are good in their roles, the narration is totally out of sync with the current trends.
Bottom-line: Fa Fa Fee Fee