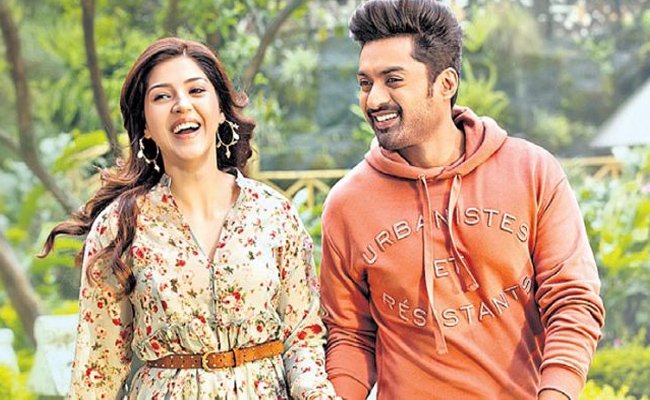 Movie: Entha Manchivaadavuraa
Rating: 2/5
Banner: Aditya Music India
Cast: Nandamuri Kalyan Ram, Mehreen, Praveen, Rajeev Kanakala, Vennela Kishore, Suhasini, and others
Music: Gopi Sundar
Cinematography: Raj Thota
Editing: Thammi Raju
Producers: Umesh Gupta, Subhash Gupta
Written and directed by: Satish Vegesna
Release date: Jan 15, 2020
The Sankranthi 2020 had already seen the releases of three movies and now the fourth movie starring Kalyan Ram is here.
The film's director Satish Vegesna directed "Shatamanam Bhavati" which was a huge hit when it got released during the Sankranthi period in 2017. So, expectations were high on this film as well.
Let's find out its merits and demerits.
Story:
Balu (Kalyan Ram) loses his parents when he was a small kid and that made him yearn for relationships more in life.
One day, he has come up with an idea to start an agency named "All Is Well: Emotions Suppliers". The agency would supply a family member when some when needed. A relationship on hire is the concept.
He would send a son or grandson or brother when someone is feeling lonely. His friends and girlfriend Nandini (Mehreen) are also part of this agency.
What problems he would face and what relations he would forge is the rest of the drama.
Artistes' Performances:
Kalyan Ram is a misfit in this character though he has put in a sincere effort. He has tried hard to bring some energy to this good-natured guy's role. Mehreen as his girlfriend is okay.
Vennela Kishore has provided one or two laughs in the second half. A host of senior actors like Suhasini, Sharat Babu, Vijay Kumar, Naresh, etc have put in best efforts in their regular roles.
Technical Excellence:
The film is mostly shot in lush-green Godavari district fields and Kerala. The cinematography is pleasant. Only one song from Gopi Sundar is catchy enough. The film's pace is damn slow.
Highlights:
Few Emotions
Drawback:
Old-fashioned direction
Outdated situations
TV-serial standard taking
Analysis
Rent-a-Family is a concept that is quite popular in Japan. Newspaper reports suggest that family-renting agencies are thriving there. In a highly-populated country like India, where family relations are strong, this concept sounds bizarre.
But Kalyan Ram while pitching the idea of this agency in the film argues this: the concept of buying bottled water two decades ago sounded absurd but today everyone is buying the water. Similarly, this rent-a-family member would be welcomed, he says and they buy his theory.
This concept in "Entha Manchivaadavuraa", directed by "Shatamanam Bhavati" fame Satish Vegesna, is taken from a Gujarati movie.
The problem is that Satish Vegesna has failed to narrate this in a convincing or engaging way. There is no strong conflict here to hold the story.
After establishing a couple of scenes about this concept of selling emotions, the film runs out of ideas. So, the director has included some silly gags and boring love track between hero and heroine. The villain's (played by Rajiv Kanakala) angle is added forcibly.
With the film moving slower than snail's pace, our levels of patience decrease. Filled with clichéd moments and lethargic narration, the family drama puts us in sleeping mode. The less said about the second half the better.
The film's name is "Entha Manchivaadavuraa" (What A Good Man You Are) but by interval, we feel 'Entha Twaraga Aipotey Manchidiraa".
In a nutshell, the family drama has turned into a big bore.
Bottom-line: Brahmotsavam 2